Summary (Best VPNs for Crypto Trading)
I will suggest you go through the entire article, and figure out the best VPNs for crypto Trading available on PC and mobile that fits your need.
However, if you are short of time and don't want the trouble of going through the entire article, I am mentioning the highlights of the discussion below.
Our topmost pick is NordVPN, the best VPN service out there for secure crypto trading.
Our 2nd most premium VPN service recommendation is ExpressVPN, which comes with great performance that allows you to trade cryptocurrency with utter ease.
Our 3rd most affordable, reliable, and high-quality VPN service to trade cryptocurrency securely is SurfShark VPN.
Picking up the best VPNs for Crypto Trading is not that tough because of the availability of VPN services in the market. And we all are aware of the fact that using a VPN service not only unblocks various geo-restricted contents and gives access but also acts as a shield of protection from hackers.
Additionally, paying these top-notch VPN providers through Cryptocurrency provides the users with additional anonymity.
But did you know, a VPN server can also be used to keep crypto transactions and wallets safe and secure? Sounds insane right?
Well, it is possible and, in this article, I am going to suggest to you some of the best VPN servers for CryptoCurrency.
But first, let's shed a light on the significance of VPN for cryptocurrency.
Why using the best VPNs is recommended while Crypto Trading?
Nowadays, CryptoCurrency has become one of the most popular money trading systems in the market world. Gone are the days when people were suspecting the potential of CryptoCurrency due to its lack of foundation.
According to the article on Triple A, around 300 million users worldwide are using CryptoCurrency with 3.9% global ownership during the year 2021. And over 18,000 businesses are accepting payments through CryptoCurrency.
But as we know everything which seems gold has some flaws and the same goes with CryptoCurrency because of its vulnerability towards hackers and lack of security while trading these currencies. Even some government entities have banned the use of CryptoCurrency.
Trade While Banned by Government
For instance, recently Indian Government has been thinking to ban Crypto Currency, which will directly affect the CryptoCurrency owners in India to a great extent by exposing them to a great loss.
Crypto Wallet Security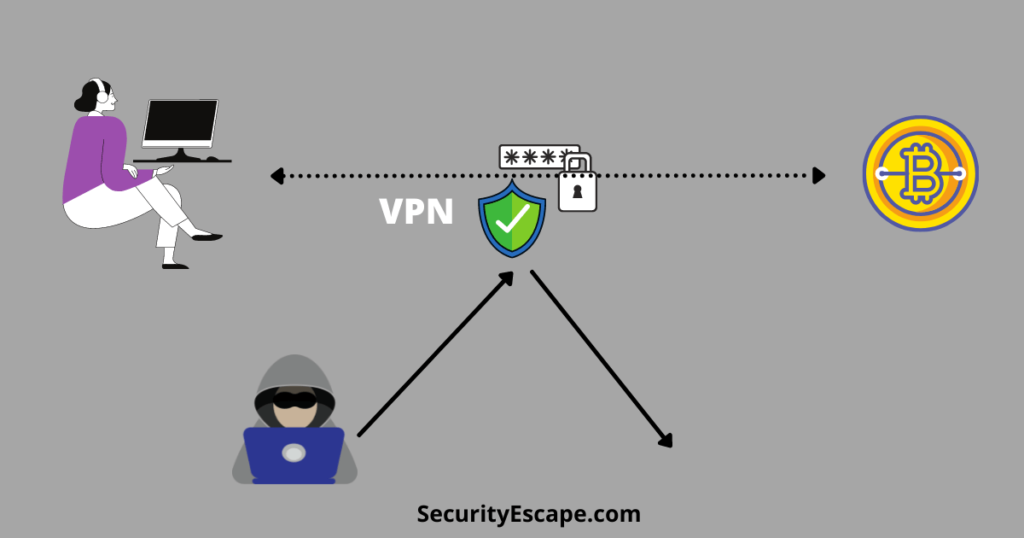 The main concern with Crypto trading is that of offline wallets. These wallets are the primary target of hackers. Even there are chances that you might be hooked up with a fake CryptoCurrency while buying an Initial Coin Offering (ICO) offered by many startups.
Gamers also play Online Games like PUBG using Best VPN Services.
Security from Unsecured Web Addresses
Next comes the insecure addresses which are believed by many people as secured and anonymous. But if they were secured and anonymous, then why did they end up in public records?
This is why the hackers end up targeting your crypto wallet, and it is even easy for them if you have shared the address of your Crypto wallet on any social media site or messaging apps.
Security from Phishing Attacks
Phishing attacks are a dangerous activity practiced by the attackers and using this technique an attacker can easily target a user by stealing his/her personal information, and Cryptocurrencies. To state a fact, phishing was used in 2018 to steal over 250 Bitcoins from Electrum Wallet.
And finally, your smartphone or computer can be crypto jacked, meaning, your device acts as a crypto mining medium for hackers which considerably slows down your device to a great extent.
I know, the above-mentioned points might have planted a question in your mind, to whether is it really safe to trade in Crypto and this is where the search for the best VPN comes in, which acts as a savior for the people like us who want to take that extra risk of earning more using Cryptocurrencies.
As we all know, VPNs are famous for their capability to make everything private or say going full incognito, which helps users in keeping their data safe and having a good amount of speed on the go. And to be honest same goes with the use of VPN while initiating some online Crypto trade.
VPNs are one of the best tools to keep Crypto transactions safe and secure.
Following are the benefits of using a VPN which will also answer the question "Why using the best VPN service is recommended while Crypto trading?"
Masking of IP Address
The entire Crypto transaction happens over the public domain; thus, anyone can trace your IP address with the help of your Cryptocurrency address. Therefore, anyone whether it is a hacker or some government entity can easily trace you down with the help of your electronic wallet.
But if you use a VPN service to access your crypto account, it will help you by hiding your current IP address and only showing the VPN address which is generated during the session, thus creating a secure connection.
You will be able to do anonymous transactions without any fear of getting traced. Not to forget, this type of security works only on those VPN's which has the No-Log feature.
Unblocking Restrictions
The popularity of cryptocurrency also comes with the problem of Geo-restriction. Trading platforms like; Binance is unavailable worldwide and even if you are a US citizen you won't be using it without a secured VPN connection. Additionally, both national and international exchanges in China are banned.
Therefore, using a VPN would be very handy as it breaks the shackles of Geo-restrictions, and saves you some money by not letting you migrate to the other platforms.
Traffic Encryption
By using the best VPN for cryptocurrency, you don't need to feel unsafe while making your transactions with the help of public Wi-Fi or other unsafe networks.
With the help of an unbreakable AES 256-bit cipher, a VPN service will encrypt all your internet traffic, because of which you can rest assured that no third party can track your online activity or the traffic type.
Going Incognito
You can go full incognito by using VPN servers while accessing your digital wallet as it will provide the user with anonymous browsing and an enhanced security level. When your data is encrypted, no one will be able to bypass your payment address and access the wallet.
Protection from External Threats
By using one of the best VPN servers, one can rest assured about not getting his/her crypto wallet infected with viruses and malware, as it provides a layer of protection to avoid such harmful attacks.
Our top 3 VPN Picks for You, to Trade in Crypto-Currency:
Now after having a long-detailed discussion over the importance of VPN for crypto trading, and the benefits of using it, I would now like to share my top 3 VPN recommendations for crypto trading which will not only help you bypass geo-restrictions but also help you in keeping your Crypto data safe.
So, without any further a due let's jump over the good part.
Following are the names of the VPN services, that I will recommend you for Crypto Currency:
The best VPN to trade cryptocurrency.
NordVPN is one of the most powerful and secure VPNs to accept Bitcoins right now. It offers excellent security, great speed, and a No-Log policy which helps in staying private.
It offers excellent worldwide coverage with more than 5,500 servers across 59 locations. It has a majority of multiple servers located around, including the US.
NordVPN will help you break the geo-restrictions and enable you to gain access to the blocked crypto trading platforms.
With NordVPN you don't have to worry about your personal data and browsing activity getting public or detected, as it has a strict no-log policy that deletes your data after the session ends.
As it is registered in Panama, a user doesn't have to worry about anything with NordVPN.
With military-grade AES 256-bit encryption, all your data and transaction will be protected from government entities, ISP's (Internet Service Provider), and hackers.
It also masks your IP address and location, so you don't have to worry about your personal data getting leaked while trading cryptocurrencies.
NordVPN has additional features as well, for example, you can opt for its Double VPN connection to use it with two different servers instead of one, and secondly, it also provides DDoS protection.
Another mind-blowing privacy feature that NordVPN provides is that of obfuscated servers, which is designed for regions with VPN restrictions like Turkey and the UAE.
NordVPN provides its users with round-the-clock customer service through live chat if there is any problem with the service. There is also a very decent section of helpful information in the support forum.
It supports Operating systems like Android, iOS, Linux, Windows, and macOS and can also be installed on supported routers directly.
Pros of NordVPN:
😊Massive server network.
😊Unblocks Crypto trading platforms.
😊Advanced Security with NordLynx.
😊Most secure VPN for crypto trading.
😊No-Logs policy.
😊Accepts anonymous payments.
😊Magnificent AES-256-bit Encryption.
😊Offers customizable kill switch.
😊Dual VPN and DDoS protection.
😊Established in Panama.
😊Supports Spilt Tunneling.
😊Has IPv6 protection.
😊Unlimited data allowance.
😊6 devices can be connected.
Cons of NordVPN:
🙁Lacks Kill Switch on Android.
🙁No router app.
Price:
NordVPN is offering a discount offer of 72% this Black Friday which means you can grab a two-year plan just for $3.29/month.
Followed by $4.92/month for a year's plan and $11.95/month for a month's plan.
It also provides 30 days money-back guarantee to its users during the first month.
You can always opt for added security by purchasing their NordPass Premium and NordLocker Premium plan, just for an additional $1.49/month.
Premium VPN service with great performance and 2nd best VPN for Crypto Trading:
ExpressVPN is our second most recommended when it comes to secure crypto trading.
ExpressVPN offers a wide range of payment methods, including Bitcoin. So, it becomes more convenient to upgrade to more anonymity.
It has the latest security and privacy measures to ensure complete security while you are initiating any transactions
ExpressVPN is also known for its massive network. Additionally, it operates across 94 countries with over 3000 servers even in a region like Turkey.
It also allows the access of geo-restricted altcoins and trading platforms in many locations.
It comes with AES-256bit encryption which will help you in your crypto transactions. It also supports perfect forward secrecy that changes the encryption key to avoid any security compromises.
It offers AES 256-bit cipher, SHA-512 HMAC authentication and, an RSA key.
You don't have to worry about your data getting stored, thanks to its TrustedServer Technology which runs on RAM that wipes your data after every session, resulting in less vulnerable cyber-attacks while trading cryptocurrencies.
As it is registered in the British Virgin Islands, you don't need to worry about any data beach and can carry on your crypto transactions privately.
Its easy interface and easy-to-navigate servers make this VPN server the best choice for beginners. Plus, setting up its app on desktop and mobile is very easy.
It supports operating systems like, Windows, macOS, Linux, Android, and iOS which makes it even better due to its range of device compatibility.
It has 24/7 customer support service who are ready to help you anytime.
Pros of ExpressVPN:
😊Supports Split tunneling.
😊Network lock kill switch.
😊Accepts Bitcoin payments for additional anonymity.
😊24/7 customer service.
😊Super-fast servers.
😊Based in the British Virgin Islands.
😊3000+ servers in 90+ locations.
😊Unbreakable AES 256-bit encryption technology.
😊Unlimited Bandwidth
😊Excellent privacy and security.
Cons of ExpressVPN:
🙁Expensive VPN service compared to its competitors.
🙁Limited customizable options.
Price:
ExpressVPN is providing its customers with a whopping 49% off on its 12+3 months plan for only $6.67/month as a Black Friday deal.
Further adding it is offering a 1-month plan for $12.95/month and a 6-month plan for only $9.99/month.
It is also offering 30 days money-back guarantee, so you don't need to worry about it if you are dissatisfied with the service.
Most affordable yet high quality VPN server:
SurfShark is our third most VPN pick which will help you in secure crypto transactions. It is one of the most affordable yet reliable VPN services out in the market.
SurfShark has more than 3,500 servers spread out across 65 locations. It also has a significant presence in the US and Europe. So, to make most of it, connect to the closest server available to trade cryptocurrency.
It supports payments through cryptocurrency for additional anonymity and also allows you to pay through PayPal, Google Pay, Amazon Pay, Alipay, and credit cards.
It provides standard security compared to its competitors and safeguards your cryptocurrency transactions with its AES 256-bit encryption with 2048-bit DHE-RSA keys and SHA512 authentication.
SurfShark provides ample features like the auto-connect feature which will automatically establish a secure connection when connected to the internet.
Secondly, it provides the ChaCha encryption which performs better on Android.
Lastly, its No Border will enable you to use the VPN service even in restricted areas like UAE and China.
It is extremely light and open-sourced with super speed. Besides it also features OpenVPN and IKEv2 on desktop and mobile apps respectively.
A feature like WireGuard is newly added to SurfShark.
It also has a No-Log policy which will delete your data as soon as the connection goes out or is disconnected. This feature helps to keep your crypto transaction untraced.
SurfShark is also based on the British Virgin Islands, which does not require retention or data reporting.
Apart from the features, it has round-the-clock customer service support who will help you to resolve any issue you are facing.
Pros of SurfShark:
😊Has zero log policy.
😊Excellent speed.
😊Accepts crypto payments.
😊Excellent security.
😊One of the cheapest VPN services available with high reliability.
😊Protects your mobile phone from DDoS attacks.
😊Supports Split Tunneling.
😊Has IPV6 protection.
😊No DNS leak policy.
😊Unlimited data allowance.
😊Supports AES-256-bit Encryption with 2048 DHE-RSA keys and SHA512 authentication.
😊Provides the ChaCha encryption for better Android performance.
😊Features OpenVPN and IKEv2 on desktop and mobile apps respectively.
Cons of SurfShark:
🙁Prompts captchas when using the app on the mobile phone.
🙁No user-friendly configuration with other Open VPNs.
Price:
SurfShark is offering an amazing 83% off with 3 months additional on its 24-month plan. So, you just have to pay $2.21/month.
Followed by their 6-month plan for $6.49/month and a 1-month plan for $12.95/month.
How to set up a VPN server?
Choose your desired VPN service provider, and then visit their page.
Select the plan that fits you well.
Fill up the details, payment methods, and email address.
Then, click on the Sign-Up button.
Click on the Download button and install it on your device.
Launch the app and Sign In with your credentials.
Select the server to which you desire to connect. Note: Usually VPN services automatically connects to the best server possible, but you can always choose your favorite.
Bullseye! Now you can trade with crypto currency without any geo-restrictions or security breach.
Some of the famous Cryptocurrency platforms:
Bitcoin
Bitcoin is a type of decentralized currency that can be passed on from peer-to-peer bitcoin networks without any intermediate source.
But due to its decentralization, it is vulnerable to many cyber-attacks and can even face geo-restrictions. Therefore, I recommend using our best choice NordVPN the best VPN to trade Bitcoin.
Binance
This is yet another cryptocurrency exchange platform found in the year 2017. Binance rates are very good, but it is unavailable in the US.
Therefore, using the best VPN which not only surpasses the restriction but also provides good security is a must. So, we suggest using SurfShark VPN the best VPN network for Binance, which is not only highly reliable but also cheaper.
Coinbase
Coinbase is an America CryptoCurrency exchange platform that was established in the year 2012. It has high liquidity, meaning, one can avoid big fluctuation in prices.
There is also a pro version of Coinbase called Coinbase pro, for the professional with low fees and way more options.
It is a great platform for beginners because of its simple user-friendly approach. But it is not available in some countries, so I recommend using ExpressVPN the best VPN for Coinbase to unblock the geo-restrictions.
LiteCoin
Launched in the year 2011, Litecoin is the first cryptocurrency to follow in the footsteps of Bitcoin. It was created by Charlee Lee, an MIT graduate, and a former Google engineer.
It is an open-source currency that is not controlled by any central authority. But with the growing popularity, the safety of the transaction is compromised.
Therefore, using a VPN server that not only blocks hackers but also keeps the wallet secure should be a priority and I recommend using NordVPN the best VPN for crypto Trading.
Conclusion: (Best VPNs for Crypto Trading)
So, to conclude, trading on cryptocurrencies can bring a lot of vulnerabilities and restrictions, and in order to bypass these problems, I recommend using the above-mentioned top 3 picks, which will surely help you to trade cryptocurrency without any security breach or geo-restrictions.
Now it's up to you to decide which one is the best VPN for Crypto Trading for you to make your cryptocurrency transaction more safe and secure.
This article is only for Informational Purposes and we do not support to access banned or illegal content.