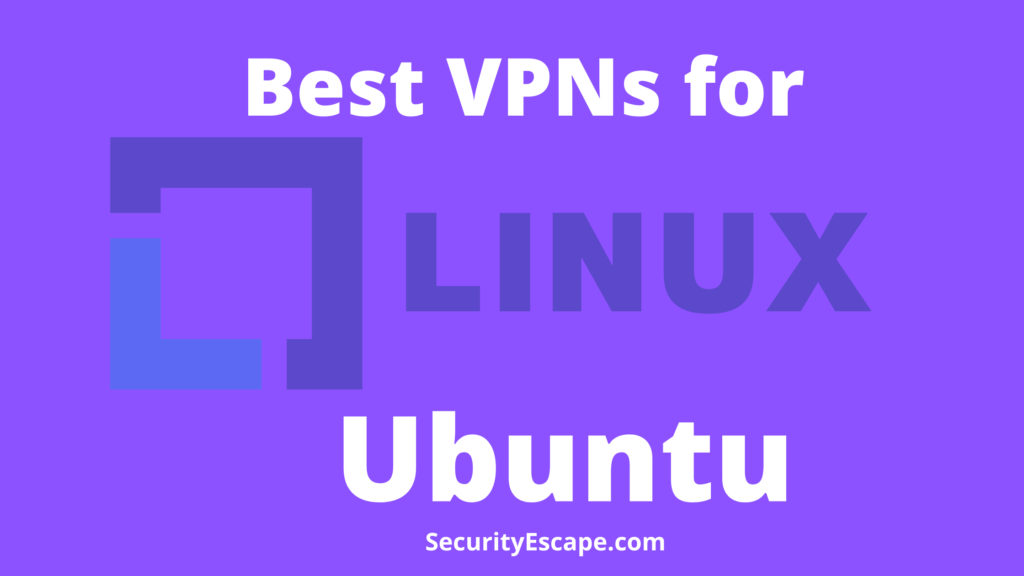 Short Summary (Best VPNs for Ubuntu)
It is not rocket science to pick up the best VPNs server for Ubuntu, because there are many good VPN services available in the market.
NordVPN is the best VPN service that you can use for Ubuntu but you can also use some well-established VPNs like Surfshark VPN, Express VPN, and PureVPN also.
In addition, I am providing deep insight into the best VPN for Ubuntu, so I advise you to go through the entire article.
But if you are short on time, I am providing you with a summary of the story.
Top 3 VPNs for Ubuntu:
Our top recommendation which offers high speed is easy to use and unblocks most of the streaming services with the command-line app.
Our second recommended VPN service, which is not only fast and secure while using Ubuntu, but is also the cheapest VPN out there.
Our third best recommendation is ExpressVPN, which provides excellent speed and security.
We all are aware of the fact that using a VPN service not only allows access from restricted content but also acts like the Shield of Captain America, which protects you from dangerous attacks.
But, using a VPN server on an open OS platform like Ubuntu, can be a real pain in the head, because of its manual configuration process and the lack of VPN providers.
So, to save you from the tedious process of selecting the best VPN for Ubuntu,
I have curated 3 of my best VPN servers, which will not only help you surf fast and safe on the internet,
But will be functioning on Ubuntu to their fullest capacity as well.
But, before hopping into the discussion, I would be giving a brief idea about What is Ubuntu? and points to be kept in mind while purchasing the best VPN server for Ubuntu.
Let's get this discussion started!
What is Ubuntu?
Ubuntu is an open-source OS platform on Linux developed by Canonical Ltd, for the enterprise server, desktop, cloud, IoT.
Ubuntu is officially released in three editions; for desktops, servers, and core for the internet, robots, and devices.
But, being it an open-source software, many manual tweaks and commands are needed to be executed in order to run a program or software.
Unlike Windows, on which one can easily install a program through a .exe file and can gain a graphical interface.
Thus, a user is left with the tedious and annoying process of manually tweaking every VPN server, yet missing on some features which are available on the other OS platforms.
Therefore, I am going to recommend some of my best VPN curations which will not only save you from this hectic process but will work on the command line app as well.
Additionally, you will be benefitted from all the security and topmost features that you will miss out on any third-party app.
But before that, a user should keep these points in mind while purchasing the best VPN for Ubuntu:
Essential Features
Fast Connection
Everyone loves fast internet and the same goes when connected to a VPN server.
Some VPN servers may downgrade your internet speed; therefore, I recommend using a VPN service that provides a fast connection.
Well-build and secure encryption
While choosing a VPN, a user should keep security in mind, and therefore, choosing a VPN server that has a strong built-in encryption system is a must.
Has No-Log policy
Did you know your ISP server can keep logs of the web addresses you visit?
Yes, it can, and to protect from such vicious deeds one must always look for a No-Log policy feature that will make sure your web activity remains untracked.
No more geo-restriction
Opting for a VPN service that can help you break the geo-restrictions, and give access to various content platforms should be prioritized.
Money-back guarantee
Who doesn't like to get an offer like this? Well, I do because it gives me the freedom to cancel my subscription and get my money back if I am not satisfied with the service.
24/7 customer support
Well, this is one of the best points, that should be kept in mind, because who knows when you might run into some trouble and need an expert to resolve it.
3 Best VPNs for Ubuntu
The best VPN for Ubuntu is Nord VPN because it solves many pinging-related issues during Gaming. We are also suggesting a few other best alternatives that you can use to access Ubuntu. The following list of VPNs supports command line apps, has the latest and greatest security updates and features. But it has no graphical interface, therefore it should be controlled via Ubuntu terminal.
NordVPN is our #1 recommendation for Ubuntu.
Many features that are available on other operating systems like Windows and macOS, are also available on the command-line app for Ubuntu.
Kill switch, ad blocker, malware blocker and many more features that are available on the general platforms are also available for Ubuntu.
Your internet connection is safe with their AES 256-bit encryption which blocks hackers if they try to access your data.
It also comes with DNS leak protection and strong security.
On a single subscription, an Ubuntu user can have six simultaneous connections.
It also has a No-Log policy feature and has support for torrenting.
Geo-restricted content available on different OTT platforms can be accessed using NordVPN.
It also provides 24/7 customer care support and has 30 days money-back guarantee.
SurfShark VPN, a product by SurfShark, bags second place on our recommendation list for Ubuntu.
It is one of the cheapest, yet safest VPN services available out there in the market.
You will be shocked to know that, SurfShark VPN provides unlimited simultaneous connections to its users.
It also comes with AES 256-bit military-grade encryption, which makes sure no hacker can hack your system.
Additionally, it also comes with a Kill switch and DNS leak protection.
SurfShark, helps its users to access the geo-restricted content on different OTTs like HULU, Amazon, Netflix, BBC, and so on.
It also has 24/7 customer support, who are ready to help their users at any time, anywhere.
Like NordVPN, it also comes with a 30-day money-back guarantee, so you don't have to think much if you are unsure of the service.
ExpressVPN is our third most recommended VPN server for Ubuntu.
It is one of the best and premium VPN services available in the market
Not to forget it also provides AES 256-bit encryption which will protect you from hackers.
It provides easy installation, with a tremendous balance between speed and server choice.
Although it is one of the most expensive VPN servers out there, the price you pay for such a premium service is worth it.
Also, not to forget it provides with Kill switch feature and No Log policy feature, to ensure that your browsing experience stays safe and private.
ExpressVPN also provides six simultaneous connections, so that you can easily connect six devices under one roof.
Technically speaking, you get a custom Linux client which can be launched via Terminal, which is not that complicated.
It also provides access to geo-restricted content platforms like HULU, Amazon, and Netflix. It also allows torrenting.
Talking about customer support, it has 24 by 7 customer support, so you can reach them anytime you want.
Like Nord and SurfShark, ExpressVPN also provides 30 days money-back guarantee, to ensure you get your money refunded if you don't like the service.
How to set up a VPN and use it on Ubuntu?
After selecting the best VPN for Ubuntu, now you will need to set up the VPN.
But how? Don't worry I am listing down some crucial steps to set up a VPN for Ubuntu.
Download VPN app from the appropriate service provider directly or through a terminal command line using apt-get or yum.
After the installation, you can easily run the VPN from the terminal.
For example; open up the terminal app and enter NordVPN to run the app.
Note: Each app will have a different command.
After the app opens up, you need to log in using the credentials provided during the Sign-up process.
Maybe you will be prompted to enter an OTP pin too.
After a successful login, you will now be able to access servers and make changes according to your need. Again, each of these commands varies from provider to provider.
Bonus tip: If you are unaware of the commands for the particular function, just type 'man' before the main command or add a simple question mark after the main command.
For example, Type 'man NordVPN', and the list of commands for different features will show up.
Some of the best third-party OpenVPN options:
OpenVPN: Functions with the protocol that goes with the same name.
Network Manager: Comes preloaded into Ubuntu with the support of multiple protocols.
Open Connect: SSL VPN client opted by many ventures.
Any Connect: A Cisco-made third-party option.
Final Remarks on Best VPNs for Ubuntu
Using Ubuntu can give you the freedom to access multiple functions of the OS, and due to this reason, many programmers opt for this particular open-source software.
But, as we know it comes with many different complications, and the same is with the VPN setup.
Therefore, to save your day, these were my top 3 VPN curations for Ubuntu,
Which will not only help you gain full access to your privacy but will also save you from the tedious process of manual setup.
So now, it is your choice, to pick up the best VPN for Ubuntu, that fits your need.