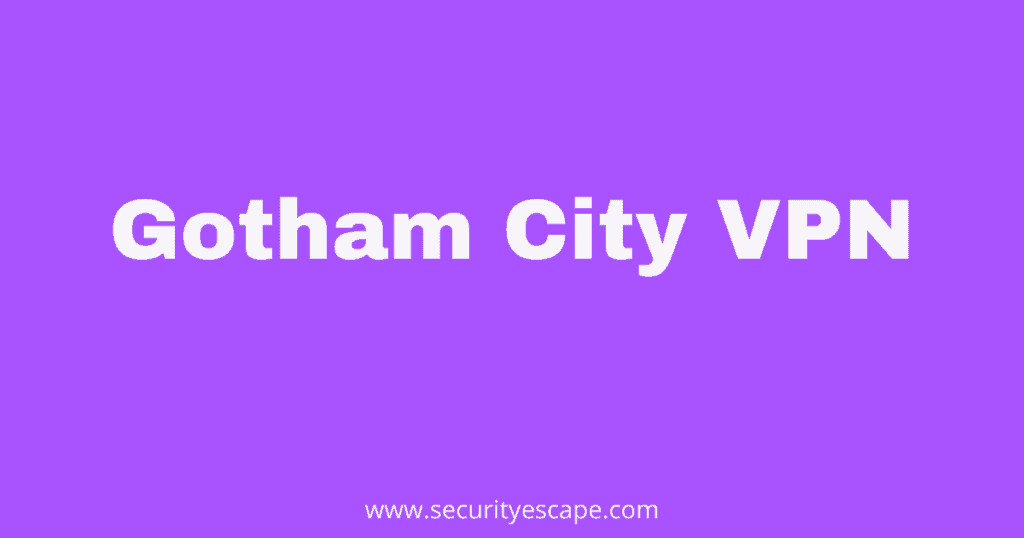 You may have heard of Gotham City. It is a non-real Fictional City to address a place. Gotham City VPN just shows the Anonymity of the user.
The VPN is used to Protect Privacy and Data Security. Avast added one more server IP which is Gotham City VPN IP.
The Idea of Gotham City is taken from the movie "Batman". The VPN user can use this name to remain untraceable and Anonymous.
The VPN users use the name of their location as "Gotham City VPN" to hide their original Location. Gotham City is an Imaginary name and taken from the movie "Batman". Users can use this location in any VPN service.
Summary
Gotham City is just a hypothetical name taken from the movie "Batman".
Gotham City VPN name is used to hide the location of VPN user and manipulate the tracing activity.
The free VPN services place a lot of ads in front of users.
These companies may collect and sell user's data.
There are a few best Free VPN services in the market like Atlas VPN, Proton VPN, Windscribe VPN, Hide me VPN, and Zoog VPN.
Choosing Paid VPN over Free is always a wise decision.
What is Gotham City VPN?
Gotham City VPN is just a fictional name of an anonymous location. Anyone can use this name on VPN services to access the internet.
One of the key features of VPN is to provide a virtual location to its user. This virtual location is the location of the VPN server.
Why Gotham City is Popular in Terms of VPN?
Gotham City is a fancy name that makes Gotham City VPN more popular.
The name of the VPN user's location as Gotham City VPN makes it more anonymous and manipulating.
Online Free VPN Connect Services
There are many Free VPN services are available in the market. But nothing is really free.
These VPN companies may sell your data to other companies and they also restrict users to access their premium services.
I have mentioned a few best free VPN services in this blog post. The preference order is based on their Performance, Security, and Entertainment options.
Atlas VPN:- Atlas VPN offers both Free and paid Options. Its free version provides Unlimited Bandwidth, 256-Bit Encryption, and Decent Speed. This VPN is safe enough and provides access to torrent. But you'll not be able to access different libraries of Netflix.
Proton VPN:- Proton VPN also offers both free and paid options. The Pros of Proton VPN are Unlimited Bandwidth, 256- Bit Encryption. But you'll not be able to access torrent, Unblock Netflix. The performance is not good and has very small server access.
Windscribe VPN:- Windscribe VPN offers both free and paid options. The main features of Windscribe are No-log Policy, Unlimited Device per account, Decent Performance, Torrent access, Data servers are small but stable. The Cons are 10GB Limit, and No Netflix Unblocking.
Hide Me VPN:- Hide Me VPN offers both free and paid options. It provides Good-Security, No log Policy, High-end Encryption, can be used on both android and IOS, and it is the fastest Free VPN service. The Cons are you Can't unblock Netflix, Only one device limitation per account.
Zoog VPN:- Zoog VPN offers both free and paid options. The Good thing about this VPN is Its data servers are located at top tier countries. It provides a decent speed. The Cons are It can't unblock Netflix, 128-Bit Encryption (Which is not enough for security).
Best Free VPN for PC
All the VPNs mentioned above are the best free VPN services for PC. All these VPN services also provide compatibility with Android and IOS.
Fastest VPN for Android
Hide Me and Windscribe are the fastest VPNs for android because of less switching capability.
Windscribe is extremely easy to set up and operate.
Final Words
Gotham City VPN is nothing but a fictional name that a VPN user can use to remain anonymous and hide the original location.
This fancy name can be used with both free and paid VPN services.
The free VPN services collect and sell your data to other companies because they treat their customer as a product.
It is always a wise decision to choose paid VPN over a Free one.