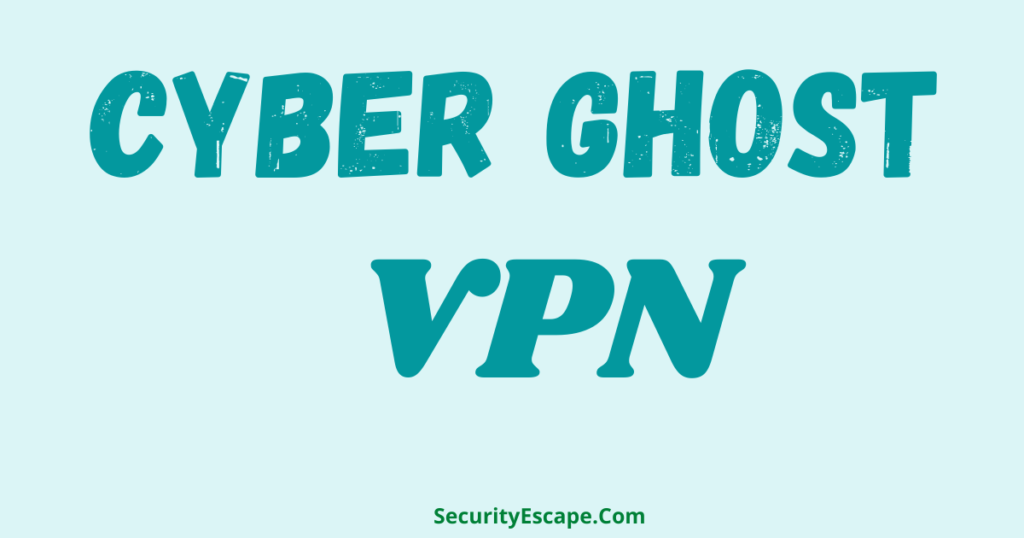 Quick Summary
This quick summary will explain "how good CyberGhost VPN is?" Advantages, Disadvantages, and everything you need to know about.
Cyberghost VPN is a good choice for streaming and watching movies and TV shows, playing online games, and switching IP addresses. But the bad choice for those who live in censorship-heavy countries and want to access banned content.
Merits
One of the Most Affordable VPN services
Best for Online Gaming and torrenting
Smooth streaming and downloading movies
Dedicated IP address
No-spy Servers
7 simultaneous device connections
Large network of servers
Good Support and 45 day Money back Guarantee
Android, iOS, MacOS, Windows, Linux supported
Kill-switch Feature
Demerits
Less Credibility in Data Privacy Feature
Data handling credibility is questionable
Little inconsistency in speed
Not a best choice for censorship heavy countries
You may have heard of this quote "The Devil is in the Details". I'm not talking about real devils.
I'm not brave enough to face them.
Please do not take the quote negatively.
This article is all about the details of Cyberghost VPN, Its features, and claims.
Being a cyber security expert I can say that these details are crucial and should be taken into consideration before subscribing to a VPN service.
This detailed and in-depth review article will help you to decide whether you should buy this VPN service or not.
Which Cyberghost VPN- What details I'm talking about?
I have used CyberGhost VPN for 3 months and tried to explore all the features in this duration.
A few months ago I decided to try this service.
Habitually I went through all the features and details of the CyberGhost VPN service.
You can easily access some of the details on their website but some details they do not share directly with their customers.
I have mentioned all the details in the form of sub-headings.
The details given below caught my eyes.
Online Streaming
In this aspect, Cyberghost performs very well.
You just want to type the streaming platform (For Example Netflix) in the search box and it will suggest to you the most optimized servers for that particular platform.
Now you can select one of them and start streaming your favorite TV shows and movies.
The unblocking capability of CyberGhost is amazing.
You can unblock and watch TV shows and movies within seconds.
Torrenting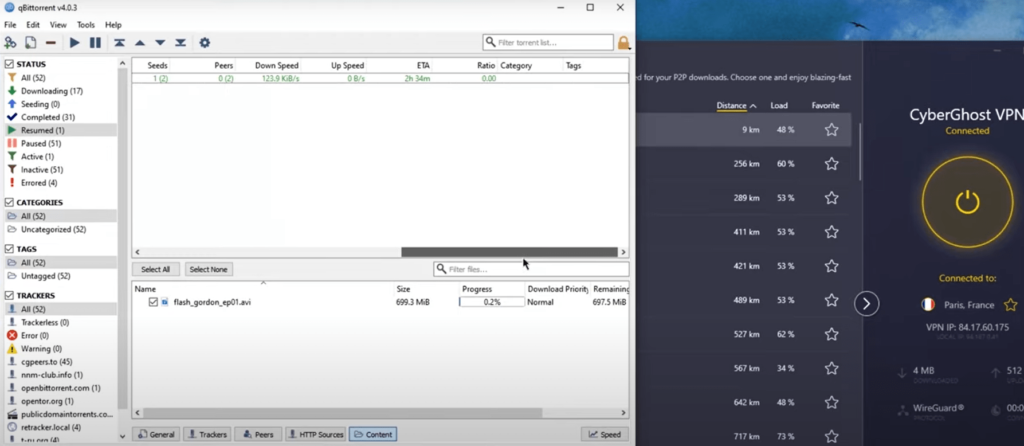 Cyberghost provides an uninterrupted torrenting service. You can download any movie or TV show without country restrictions.
This feature suggests the most optimized servers to download the videos.
Cyberghost is the best choice for movie and TV shows lovers.
Gaming
Gaming is one of the most preferred online activities on the internet.
Cyberghost offers well-optimized gaming servers for an uninterrupted gaming service.
If you want to play the games which are available in specific countries, Cyberghost is the best VPN option to access them.
Dedicated IP Address
If you are a professional and want to use a custom IP address CyberGhost might be the best choice.
This is a paid feature in the Cyberghost VPN that you can access just by paying an extra $5/month.
This feature adds an extra layer of anonymity and security.
No-Spy Special Servers
If you are a professional VPN user and want to have a high-speed connection, high-end privacy, and security, Opt-in this feature.
You can stream and download movies and TV shows much faster than usual servers.
This is possible because of extended bandwidth and less traffic.
No-spy special servers are separate servers located in Romania and have 256-bit encryption.
Cyberghost also claims that these are high-performing servers that deliver the top and consistent speed.
Kill-Switch Feature
This feature is extremely helpful to the user to prevent external cyber-attacks and maintain privacy and anonymity.
Kill-switch is a permanent feature of Cyberghost which can't be changed or customized.
This amazing feature allows CyberGhost to automatically disconnect the internet if it observes even a small variation in the channel.
It helps to protect the data from malicious attempts.
Wi-Fi Protection
Whenever your device detects a new Wi-Fi, this feature gets triggered automatically.
As we know that Public Wi-Fi is the most unsecured place for the device to use the internet.
This feature is crucial for data security.
No one should use public Wi-Fi without a VPN because of the risk of a data breach.
Split Tunneling
This feature offers you the ability to connect a particular website through a preselected server.
You can add up multiple websites but can't add applications.
The drawback of this feature is the preselected server is set as the default server for the whole VPN connection.
Protocols
Cyberghost offers 3 Protocols.
UDP and TCP Toggles
UDP and TCP Toggles help to choose the port randomly. The port will be changed with the change in connection.
You can also ON "Use a Random Port to Connect" to book the flights and train tickets without interruption.
Servers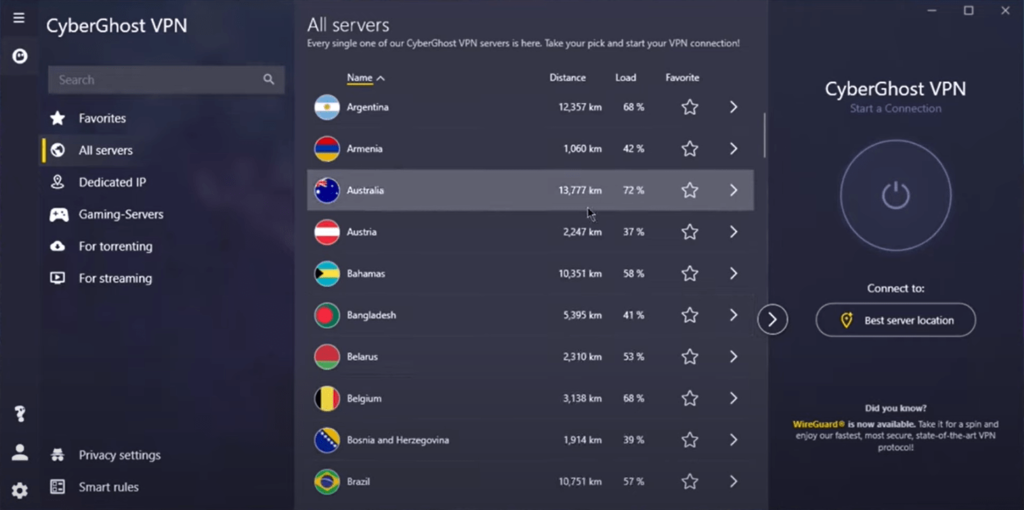 Having more than 7100 servers in 89 Countries, Cyberghost is one of the largest service providers.
With this huge network of servers, it offers more location switching capability to users.
Platforms Supported
Cyberghost supports Android, IOS, macOS, Linux, Windows, all streaming devices and routers.
It covers almost every platform and device.
Number of Devices
Cyberghost allows 7 simultaneous connections per subscription. This number is more than enough for a single user at this affordable price.
Cyberghost VPN Cost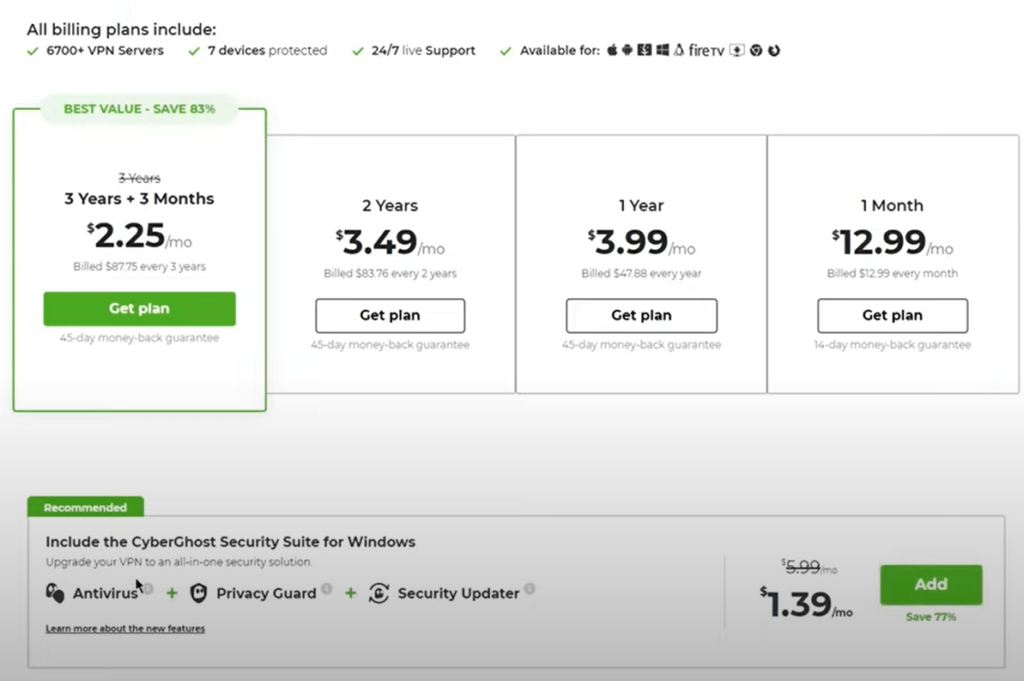 Monthly Plan
The monthly plan of CyberGhost VPN is $12.99. It looks costly.
1 Year Plan
The Annual plan is much cheaper than the monthly plan and costs only $3.99/ Month. The total billing amount is $47.88/ Year.
2 Year Plan
The Annual Plan for two years is an interesting one that costs $3.49/ Month. The total billing amount is $83.76 for 2 years. It looks good.
3 Year Plan
The Annual plan for three years is the cheapest VPN service in the Industry. That's why it is called the most affordable VPN service providing such impressive features. The cost of Three year Plan is $2.25/ Month and the total billing amount for three years is $87.75 for Three years.
Money-Back Guarantee
Cyberghost offers a 45-day money-back guarantee that is more than usual. It indicates that Cyberghost is confident of its service and features.
You can ask for a refund within this period and the refund process is very smooth.
Support
Online Chat and the Contact form are the main support channels. The staff of the technical team is well-trained who resolve the problems very fast.
The response time is average and they don't make unnecessary delays.
Encryption Rate
Cyberghost follows the Industry-standard encryption rate that is 256- bit. This encryption rate is strong enough to protect and secure your sensitive data from malicious activities.
If we talk about cyber-attacks and data breaches, Cyberghost is one of the most secure VPN services at this price point.
Privacy Policy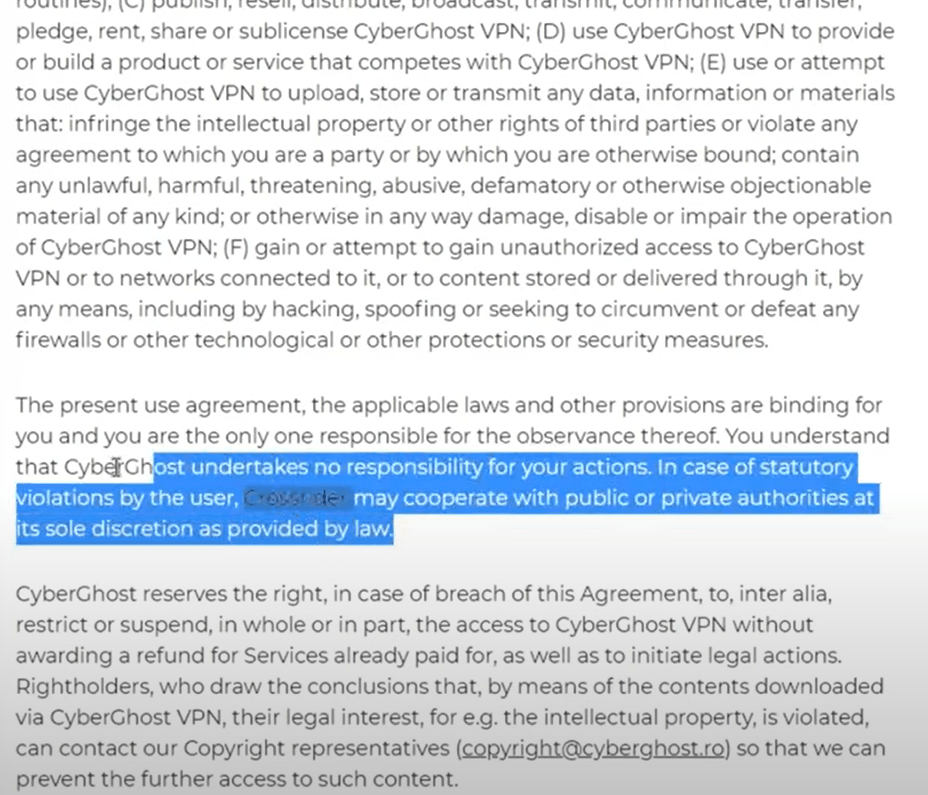 This is the only aspect where Cyberghost is not equally trustworthy like other top VPN services (Nord VPN, Express VPN, SurfShark VPN).
The privacy Policy documentation of Cyberghost is not very strict that you can rely on.
The documentation also says that "Cyberghost may provide limited control of tracking feature to the Law enforcement Agencies.
According to the documentation, Cyberghost may share your personal data with their Parent company.
All these points hurt the reputation and credibility of a company.
If you are not living in censorship-heavy Countries like China, Turkey, UAE, and Russia and also not accessing the banned content in a particular Country, Cyberghost is the best and affordable option.
3rd Party Independent Audits
The 3rd Party Independent Audits increases the credibility of the VPN services. The top VPN services like Nord, Express VPN, and SurfShark go through these audits on regular basis.
But Cyberghost has not conducted any such audit since 2012. This is another drawback of this VPN service.
Speed Test
You may face a little inconsistency in the speed but it also depends on your base connection, ISP, server is chosen, and protocol.
The speed is not the best good enough for working, streaming, downloading, and gaming.
Conclusion
If you are searching for a VPN that offers a strict no-log policy and doesn't share your personal information with their parent company and Law Enforcement Agencies, Cyberghost is not the best choice for you.
But if you are not living in censorship-heavy countries and just want to stream and download movies and play games, CyberGhost is the most secure and affordable option.
Cyberghost offers great features at this affordable price point. It is one of the best VPN services for streaming and downloading movies, Playing online games, IP switching.
Frequently Asked Questions
Is Cyberghost VPN Safe?
Cyberghost offers a 256-bit data encryption rate which is military-grade. It will keep your data safe from external malicious attacks.
But if you live in censorship-heavy countries then Cyberghost is not a good choice. They may share your data with law enforcement agencies.