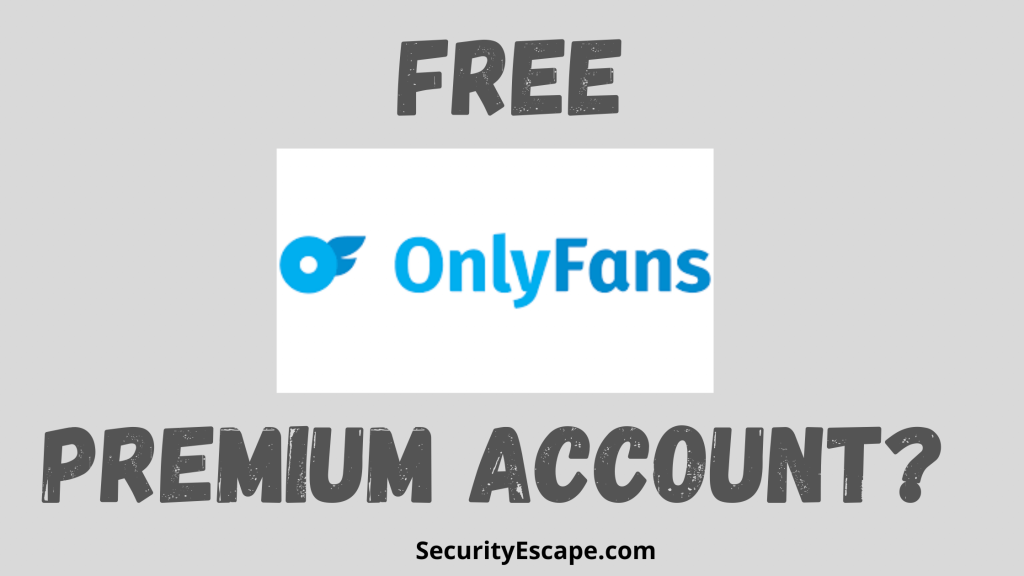 Onlyfans, a streaming platform for adults has been the talk of the town for quite a few years, and after the consequences that Tik Tok is facing, Onlyfans became much more popular among teens and adults. Many people search for "How to get Onlyfans subscription for free."
They use it to access their favorite model's photos and videos, which are only available for fans (ahem, ahem, if you know what I mean).
But there is a downfall to this platform, and that is, the creators charge a certain amount of fees, to give you access to their Onlyfans account.
Basically, it is the same as Netflix or any other streaming platform, which obviously won't give you free access to their content.
So, the question is, can you really get a free subscription on OnlyFans?
Well, let's find out!
🟢 Can you get a free subscription on OnlyFans?
It is generally not possible to get a free subscription on OnlyFans. OnlyFans is a paid subscription platform, which means that users are required to pay a fee in order to access content on the site. But, fortunately, there are a few ways that you can use to get premium account access for free for a limited time period but it is not permanent. Moreover, the websites or YouTube channels, that are claiming to give you access to Onlyfans for free through APK Mods or some links, are a scam and you might get infected. So better don't fall for that trap, or else you might put your phone's/PC's security at risk.
However, I have researched and narrowed down some hacks that might help you to access your favorite OnlyFans accounts for free.
How do I get free OnlyFans access?
💫 Hacks that can help you get Onlyfans subscription for free:
So, there are some hacks that might help you in getting Onlyfans subscription for free:
Check for free trials

Check their social media handles

DM them
Use Hashtags
Use OFTV
Try DoNotPay
Quick Tip: You can always use a VPN service to bypass all blocks and unblock almost all internet resources that are geographically restricted.
Some websites and online content are only available in certain countries. A VPN can help you access this content by making it appear as if you are located in a different country.
You can check PIA and give it a chance to one of its 35000 servers!
⇒ Get PIA
1. Check for free trials
This is the first step that you can take, to grab that free Onlyfans subscription deal.
So, to start with, just visit your favorite Onlyfans creator account, and see if they are providing limited-time free trials for their fans.
If they do, then you might want to grab that deal ASAP, because these kinds of deals can end in just a few minutes.
Plus, the psychology behind providing a limited-time Onlyfans account is that some creators are new to the platform, and they want more followers to earn more money.
🗒️Note: As per the terms and conditions of Onlyfans, the platform takes up around 20% of the revenue, and therefore, many creators set their starting price at around $9.99. Moreover, many creators provide 3 months package at a discounted price, so that they can earn more money.
Many Onlyfans creators are active on various social media platforms like; Twitter, Instagram, and Facebook.
Therefore, it is advisable to regularly check their profile for any free Onlyfans account link.
If you are lucky enough, you will definitely get the free pass.
3. DM them
Sometimes, this method can work wonders. Find your favorite Onlyfans creator on your Instagram or Twitter account, then direct message them, and ask if they can give you a free trial for their Onlyfans account.
Mostly, 80% to 90% of the Onlyfans content creators will pass on a 7 to 30-day free trial, depending on their wish so that they can gain more loyal followers.
This solution is very much related to the above-mentioned one.
You can initiate hashtags searches like; #onlyfanz, #onlyfansz, #OF, #only_fans, #freeonlyfans, #feetpics, #cosplayer, to find Onlyfans creators who are offering their Onlyfans account for free.
5. Use OFTV
Onlyfans has released an official app called "OFTV", where you will be able to see Onlyfans content for free. Moreover, stars, also post their Onlyfans content on OFTV.
But remember, OFTV only serves SFW Onlyfans content, and therefore, if you are looking for something above it, then this app is not for you.
6. Try DoNotPay
So, when I was searching for some solutions on how to get Onlyfans subscription for free, I came across this virtual credit card service called "DoNotPay."
Basically, a DoNotPay virtual credit card helps Onlyfans users to subscribe to their favorite creator's account without worrying about any deductions.
Also, it easily bypasses the authentication process, so that you can be saved from hard work.
Thus, if you are interested in using the DoNotPay virtual credit card, then head on to their website, follow the sign-up process and enjoy your favorite Onlyfans content.
Frequently Asked Questions on Onlyfans:
Does OnlyFans give free credits?

No. OnlyFans does not give free credits as they are the equivalent of real money. A user completes the OnlyFans wallet balance with cash that is later used in form of credits to unblock content.
Does OnlyFans provide free trials?

Unfortunately, OnlyFans as a platform does not provide free trials to users. But, the content creators on OnlyFans can, so that can increase their engagement and popularity.
What is the maximum free trial period for OnlyFans?
Most OnlyFans creators provide a 7-day free trial, after which, they start charging you a certain amount of subscription fee if you wish to view their content in the future. However, as the platform has no restrictions, some creators can extend the trial period for up to 30 days.
How much will it cost me to get OnlyFans paid subscription?
As previously mentioned, OnlyFans is an open platform for creators, and therefore, a creator can charge any amount he wants.
For example, he/she can charge the least amount of $9.99/month, or else can give a 3 month discounted subscription plan.
Want a premium OnlyFans account?
You can subscribe through different OnlyFans Payment methods.
How much OnlyFans take up as a revenue share from the creators?

OnlyFans takes around 20% of its creator's subscription revenue.
How to cancel Onlyfans subscription?
To cancel OnlyFans subscription, just follow these simple steps:
Login to your OnlyFans account
Choose the creator that you wish to unsubscribe from.
Lastly, turn off the "Auto-Renew" switch.
Does OnlyFans have any referral program?

Yes, OnlyFans has a referral program in which, anyone who refers a creator to the OnlyFans platform, gets eligible to earn 5% of that creator's earnings for the first year, i.e., approx. up to $1M.
Final Remarks on "how to get Onlyfans subscription for free?"
So after this discussion, it is very much clear that there is no way an Onlyfans user can get an Onlyfans subscription for free.
Although, he/she can definitely try the hacks that are mentioned in the article, to get a 7 to 30 days free trial on their favorite Onlyfans creator's account.