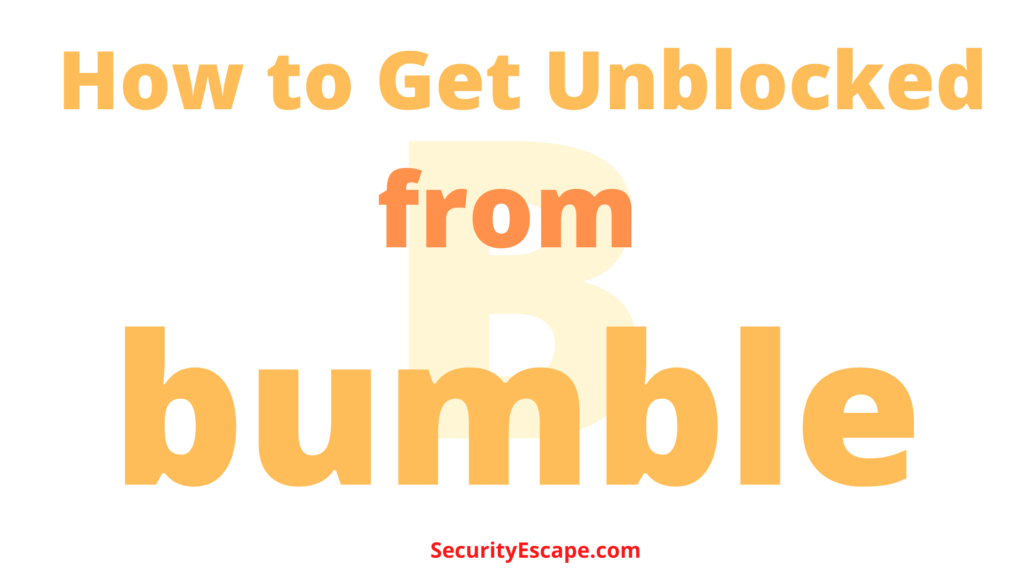 Assume if you are using Bumble and you get blocked out of the blue and have no clue how to get unblocked from Bumble the dating app. You tried to figure out the reason, but still no luck. Now what?
Well, well, well… don't panic, because there are 2 ways that I am gonna share with you, which will help you to get your Bumble account resurrected in no time. 
So, what are you waiting for? Just follow these methods and steps to get your Bumble account live again!
How to get unblocked from Bumble?
To get your Bumble account unblocked, there are two methods. The first is you need to lodge a Bumble ban appeal to customer support or secondly, you have to reset your Bumble account completely. So, choose one of these methods and follow these easy-to-do steps; to get unblocked from Bumble in no time.
Method #1 – Lodge a ban appeal to Customer Service guys:
So, the first method that I will suggest, that will help you get unblocked from Bumble is writing or lodging a ban appeal to the customer service guys. 
However, I only suggest this method if you are 100% sure, that there is no way you have violated their community guidelines.
Therefore, to make sure that you are at no fault, just read the community guidelines, and if you are sure, then come back to this method or else follow the second one.
Now, as you have made your move and are 100% sure, that you have not done any evil on Bumble, you can contact the Customer Service Support guys, to unban your banned account, by appealing to them to review your account.
And, to do so just contact them via their official contact form by:
Step 1: Visit www.bumble.com.
Step 2: Scroll down on the website and find Contact Us page and click on it.
Step 3: Now, visit the Help Centre page.
Step 4: Type any query into the search box. Say to unblock your bumble account type "Unblocked."
Step 5: A link to access the Contact Form will appear at the bottom.
Step 6: Now, choose Report a Technical Issue from the first option. 
Step 7: Enter your Email address and Name.
Step 8: Select the appropriate Bumble mode and the OS platform respectively.
Step 9: Select "Others" from Choose a Service option.
Step 10: Lastly describe your problem stating how your Bumble account got blocked due to some misunderstanding and you want to get your Bumble account unblocked, in the message box, with the screenshot included if necessary.
Step 11: Select Send Message and you are done with it.
Now, you have to wait for a week or a few days in order to get a response from the Customer Service Team. Generally, they reply in a week, but if they don't, then my friend you are never gonna recover that account for life, as the ban is final.
Therefore, you will need to switch to the second method which is mentioned below.
Method #2: Reset your account completely:
So, if the above-mentioned method of appealing to the Customer Service guys doesn't work for you, which is 99% guaranteed, you may need to reset your old account. And by resetting it, I clearly mean wiping out the old entire account, account information, and photos.
For in-depth step-by-step methods, just follow the instructions given below:
Step 1- Unlink your Facebook account:
If you have created your Bumble account with the help of your Facebook ID, then you need to wipe up the entire data by removing the app from Facebook to do that:
Go to your Facebook account.
Now, go to the menu page and then select the Settings and Privacy option.
Then, select Settings.
Scroll down to the permissions section and select the Apps and Websites option.
Click on Bumble.
Scroll down and select Remove and confirm the same.
Done. You have successfully unlinked your Bumble account from Facebook.
Step 2 – Delete your Bumble account:
Now, after you have unlinked the Bumble account from your Facebook account, it is time to delete your Bumble account.
Open your Bumble app.
Access the "Settings" option.
Scroll down and tap on "Delete Account" option.
Now, you will be asked the reason why you want to delete your Bumble account. Choose the desired option
Finally type "Delete", to confirm your choice.
Done. Now, your account has been successfully deleted. 
Note: Deleting your Bumble account, means you will lose the entire app data including your swipes, matches, and conversations.
Step 3 – Uninstall your Bumble app:
Go to the Settings menu on your phone.
Select apps and scroll to Bumble.
Now, select uninstall option.
Done.
Step 4 – Stay calm for 24 hours:
After deleting your entire profile and app, you need to wait for at least 24 hours, to be on the safer side. After that follow the next step.
Step 5 – Create a new account:
So, after you have waited for 24 hours, it is time to create a new fresh account on Bumble. And to create a new one use different or new login information, not the old one, and after that:
Download and install the Bumble app from the respective app store.
Open the app.
Select the signup method. (Facebook or new cell number)
Depending on the method you select, fill in the details such as your Facebook ID or your phone number. (If using a phone number, they will send you a code, to verify the number)
Follow the Setting up your profile steps.
Done. You are now live again on Bumble with your new account. So, start swiping and matching the profiles again.
#Method 3 – Use VPN Service
You can also use a good VPN service to get unblocked from Bumble. The VPN basically hides your IP and manipulates the Bumble AI about your location.
I personally recommend using any one of the 3 VPN services mentioned below.
 
1. NordVPN
Features
 
Rating by Users
5.0/5.0
Unblocks 400+ Streaming Services
High-Speed Servers
Ad-Block Feature
Zero Log Policy
Military Grade Encryption
Unlimited Torrenting
GET 68% OFF!
Final Remarks on How to get Unblocked from Bumble:
Using a dating app like Bumble gives you the freedom to choose your partner, by just using your fingertips. Though, using Bumble can sometimes land you into trouble of getting yourself banned from the app itself. Therefore, using appropriate ways to get unblocked from Bumble should be practiced.
Thus, to conclude, these were the top 3 methods, which will help you get unblocked from Bumble.
This article is only for Informational Purposes and we do not support to access banned or illegal content.