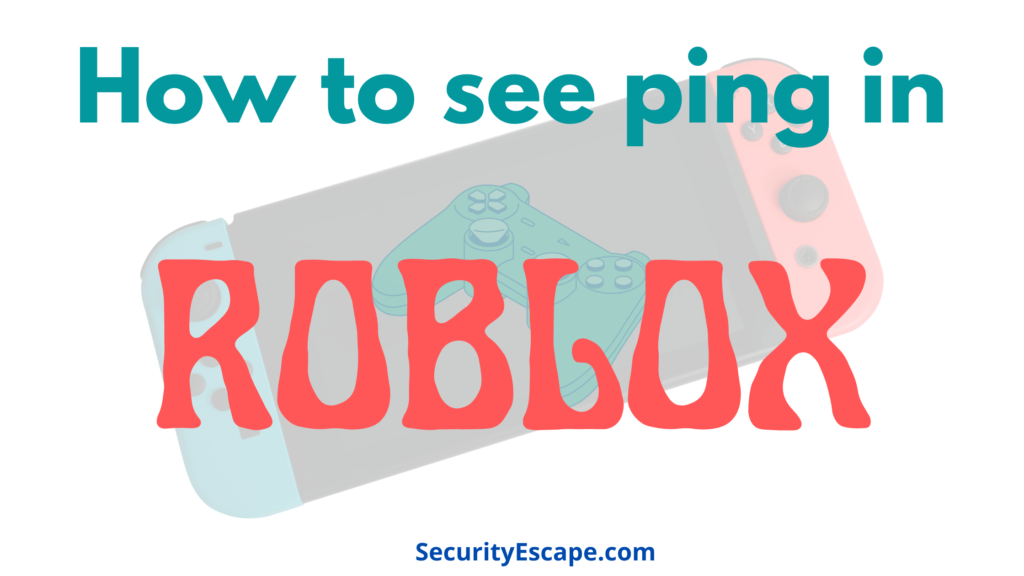 If you have searched this query, you definitely know that Roblox is an online gaming platform that allows users to play and even create games for other users. But if you are a pro and see some lag in the game you will have this question in your mind, "How to see ping in Roblox?"
It is as easy as cutting a cake, you just need to memorize a shortcut and you will see ping in Roblox in no time. And in this article, I will be guiding you with the steps, that are going to get your search query resolved in just a few minutes.
So, without wasting any time, let's dive straight into the topic.
How to See Ping in Roblox?
Roblox is a gaming platform owned by Roblox Corporation and it is a free-to-play arena for gamers, with an in-game purchase available through a virtual currency called "Roblox."
So, if you are a game nerd and want to see the ping in Roblox, just open the game and press Shift+F5, or else go to the settings option. Now, to get a deep insight into how to see ping in Roblox, follow these simple steps given below.
#1. By Using Shortcut Key Combination:
Well, this is an easy hack to see your ping stats, if you are a game nerd. And to open the performance panel by using shortcut keys follow these steps:
Open a game you want to play on Roblox.
After that press Shift+F5.
Now, a window will pop up on the top left of your screen, and that is the performance stat window, which will show you the stats of the game as well as the ping
Again, press the same shortcut keys "Shift+F5", to disable the performance window again
Now, you are successfully able to view the ping in Roblox, which will allow you to analyze, if your game is lagging or not.
#2. By Using the Settings Menu Inside the Game:
You can also enable the performance stats window by going inside the settings menu of the game, and to do that just follow these simple steps:
Open a game on Roblox.
Now, go to the Settings menu.
Scroll down the menu and find the "Performance Stats" option.
Enable the Performance Stats by clicking on (>) or (<), and selecting "On."
Voila! Now, you will successfully see the performance stats which includes ping in it.
Similarly, if you want to turn the window off, go to the "Performance Stats", inside the settings menu and then just click on (>) or (<), to turn it off.
What is the Significance of Ping in Online Games?
Well to answer this, it is simply the total time taken between the player's input and the server's response to those given inputs. In fact, if you have a lower ping the better will be your gaming experience, and the higher the ping, the worst will be your gaming experience.  
When the ping count is high, your game is going to lag 100%. Ping is generally denoted by "ms" which is the abbreviated form of "Milliseconds."
What Ping Count is Appropriate?
So, if you are playing an online game, ping count really matters, as it is something that can give you a better or worse gaming experience. Therefore, if you are wondering what is the appropriate ping count, a ping of 15ms is considered excellent according to esports.net. 
A ping count between 15ms to 45ms is great, whereas a ping count between 45ms to 100ms is fairly good. Although, if it is between 100ms to 250ms, the game will give you a really hard time, and if it surpasses 250ms, then my friend it is a complete disaster.
Note: The playability is not solely dependent on ping, but also on the level of play and the game type. Games based on the FPS genre, are considered to be sensitive according to the gamers, as they start noticing issues at around 50ms to 90ms.
While MMOs and RTS games are less sensitive to higher pings, whereas turn-based games barely suffer from higher ping count.
Final Remarks on How to See Ping in Roblox
So, while playing games on Roblox, you might want to know what is the ping in order to see if the game is lagging due to higher ping or some other issue, and therefore you might need to open the "Performance Window", to see the stats.
Thus, these were my top 2 methods on how to see ping in Roblox, which will help you to see the ping stats in just a few minutes.