Do you want to send a file that contains your bank account details to someone you trust?
Or are you someone who stores all of the confidential information on your computer or cloud storage services like Google Drive?
If yes, then you should definitely start investing in some of the best encryption software out there in the market to encrypt all of your data, so that no one can spoof or steal it.
But now you will ask, why is encryption software used, how it works and which encryption software will be more suitable for you.
Well, don't worry, because I have tried to cover all of the queries along with some of the best encryption software, that will help you to encrypt your online as well as your offline data with utter ease.
So, if you are ready to explore, then let's dive straight into the topic.
Why is Encryption Software used?

As the years have passed, everyone, including businesses or government body like the police department or FBI have shifted their operations to the internet world.
And to be honest this shift has made almost everything easy.
Meaning one can easily access or send his/her confidential data without moving an inch.
All he/she needs is a working internet connection, and a device that can help them access the internet, for instance, a laptop.
However, with this ease, it has also become a puppet play for a hacker or an attacker to steal or snoop around your confidential data.
All they need is to deploy some malware software into your system, and boom, your data is now no more confidential.
Not to mention, if by any chance a hacker deploys Ransomware software, and gains possession to all of your company's financial as well as secretive data, then you have no choice, but to abide by the demands (mostly money) that a hacker demands to release your belongings.
Moreover, as people have started storing their data on cloud storage services like; Google Drive or One Drive, they are risking it all by keeping it unprotected and open to vulnerability.
Therefore, it has become very essential for businesses or an individual to educate themselves and learn how to install encryption software into their system, so that they can protect their data well in advance.
Encryption software can help to encrypt the data that is being sent, received, or stored. It converts the data into unreadable digital codes with the help of a predefined encryption process.
This digital data can only be read by someone who knows the right key/ password. No password means no data access.
The most used encryption standard is AES-256 Bit Military Grade Encryption, which is one of the best when it comes to protecting extra sensitive data.
But a 128 Bit encryption is also a popular one that is more than sufficient for an individual.
Now, that we have talked about why is encryption software used, let's now move forward to our curated list, where I have mentioned some of the best encryption software, that can help you safeguard your data.
13 Best Encryption Software:
The following are some of the best-handpicked encryption software available in the market.
Kruptos2:
If you are looking for 256-bit encryption, then Kruptos2 is the first recommendation for you. By using this tool, you can encrypt any kind of file from your hard drive regardless of the size.
One of the best parts about this encryption software is that it automatically encrypts your files as well as your file names once you
are done with your editing, so that no unauthorized users can be able to locate and open the files.
Further mentioning, this software comes with a file shredder feature that can permanently delete your files, which can be helpful to avoid confidential mishaps.
Even it has secure notes feature that stores your important personal notes, Wi-Fi passwords, secret keys, bank details, etc., and will keep them away from intruders.
Now, talking about its compatibility, it can run on Windows, Mac, Android, and iOS devices. And that's not it, you can seamlessly share these encrypted files via the cloud, email, or any sharing app.
Lastly, it also supports cloud encryption, which allows you to encrypt and upload your files on Google Drive, OneDrive, and Dropbox.
Pros:
Has 256-bit encryption.
Has a Windows Explorer plug-in.
Random password creator.
Common password analyzer.
Filename encryption.
Cons:
No free version only a 7-day free trial.
Increases file size when encrypted.
Axcrypt:
Axcrypt is yet another great data encryption software to encrypt your data, while sending, receiving, or storing, as it supports 128-bit or 256-bit AES encryption which is military-type encryption, that can block any intruders who are trying to access the files very easily.
Further mentioning it is a great fit if you are an individual or running a small business with few team members, as it gives you many sufficient tools to protect and secure your files.
Additionally, if you are someone who is a fan of cloud-based storage platforms like Google Drive and Dropbox and uses them as your daily storage vault for your files, then Axcrypt got you covered, as it supports cloud-based encryption.
So, it is actually a win-win situation.
Now, if we talk about its versatility, it supports and speaks multiple languages, like; English, Dutch, French, German, Italian, Korean,
Portuguese, Spanish, Sweden, Turkish, Russian, Polish, and more.
Lastly, it has a password manager that can help you access your passwords seamlessly no matter wherever you are.
Pros:
Has 128-bit and 256-bit encryption options.
Supports cloud storage encryption.
Easy to use.
Supports encryption and decryption of the files on your Android, and iOS devices.
Has a 1-month free trial version.
Supports online password manager.
Allows editing of encrypted files.
Multilingual support.
Secure file deletion.
Secure sharing using public-key cryptography.
Cons:
Needs to tighten up the security of your PC on a local level.
Mostly mobile.
DiskCryptor:
DiskCryptor is yet another open-source and free encryption software that can help you secure your internal and external drive, which includes system partitions, ISO images, USB flash drives, or any other storage device.
It has a simple and intuitive interface so that you can easily select the drive and encrypt it to protect your data. Furthermore, it is a full-disk encryption tool for Windows that has multiple encryption algorithms like AES, TwoFish, and Serpent.
Pros:
Encrypts whole disks or disk partitions.
Supports AES TwoFish and Serpent encryption algorithms.
Offers the ability to encrypt CDs and DVDs.
Supports full encryption of USB devices too.
It is compatible with third-party bootloaders.
Cons:
It lacks modern trends and standards.
Does not support automatic encryption for additional storage devices.
Dekart Private Disk:
Dekart Private Disk is reliable and flexible encryption software that can help you to create encrypted disk partitions to protect your confidential information.
It also hides and restricts access to your data and programs.
Further mentioning, it allows you to create a whitelist of applications that can only access the encrypted drive.
It also features a unique technology called Disk Firewall mechanism that shields your files from viruses and malware, even if your installed antivirus or anti-malware software fails to protect your system.
Pros:
Easy to use.
No backdoor.
Secure and Reliable.
Has AES-256-bit encryption.
Cons:
No privacy is ensured while switching between users with administrative privileges in Windows XP.
7-Zip: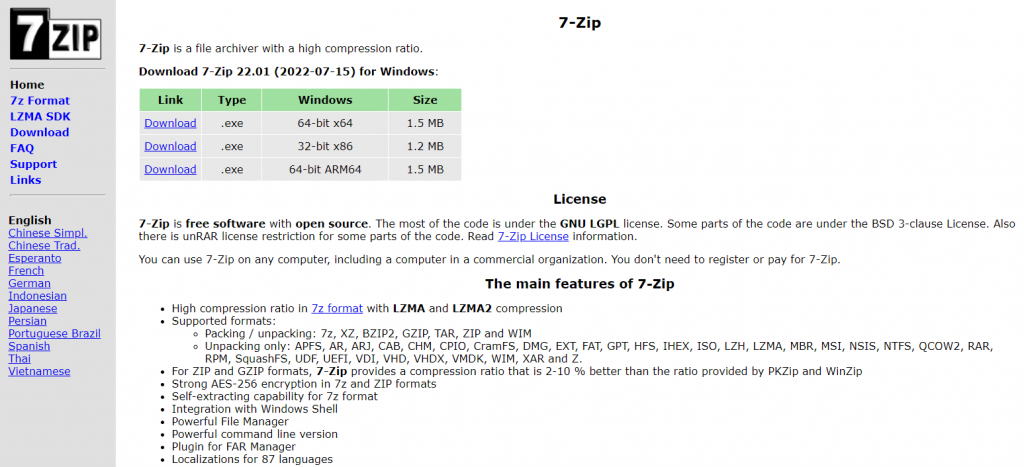 It is a lightweight file archiver that supports file encryption for archives. It can create archives in 7z format that offers a high compression ratio.
The 7-Zip app supports self-extraction for 7z format along with full integration with the Windows shell. Not to forget, it also supports 256-bit encryption for 7z and Zip format files.
In addition to this, it can also unpack 30 different file types and can create 6 different types of archives with the help of this tool.
Pros:
Small and lightweight.
Supports 256-bit encryption.
Creates archive in 7z format.
Has the capability to unpack 30 different file types, and can create 6 different types of archives.
Supports full 7z extraction and full integration with Windows Shell.
Has a built-in file manager and supports the command line.
Cons:
Doesn't support encryption of your system driver or an entire partition.
Gpg4win:
Gpg4win is another great tool that allows you to encrypt folders or files right from the File Explorer.
All you need to do is right-click on the desired file and choose the encryption from the menu.
Apart from the encryption process, the application allows a user to create checksums and use them to verify file integrity.
This tool also allows you to sign and encrypt/decrypt your emails in Outlook.
It can encrypt email messages as well as attached files.
Additionally, you can also manage the certificates by using this tool.
Pros:
Encrypts folders/files right from the file explorer.
User-friendly certificate selection.
Signing and encrypting.
Manages certificates securely and comfortably.
Supports smartcard for OpenPGP and S/MIME.
Cons:
UI feels archaic.
Multiple utilities doing the same thing.
NordLocker:
By seeing the name, you might have guessed that NordLocker is a file encryption software developed by none other than NordVPN which is one of the most known names in the VPN industry.
Now talking about its reliability and usability factor, it is a secure and easy-to-use encryption software as it supports two of the most popular and powerful forms of encryption, i.e., AES 256 and 4096-bit RSA.
Moreover, it can function across multiple platforms and protects information that is on your device storage as well as cloud storage.
And last but not least, it has an in-built drag-and-drop feature that helps in adding/removing files easily from the encrypted NordLocker folder.
Pros:
Supports multiple platforms like Android, iOS, Windows, macOS, and cloud storage.
30-day free trial.
Easy to use.
Supports Dropbox integration.
Easy and secure file sharing feature.
Cons:
Lacks a two-factor authentication feature.
No secure deletion of unencrypted files.
VeraCrypt:
If you are tight on budget and don't want to spend more on a high-end encryption software, then don't worry, because VeraCrypt got you covered.
It is a budget-friendly encryption software on the list that provides high-end encryption services for everyone.
Next, if you are worried about hackers deploying a brute force attack to decrypt your passwords and sensitive data, then give VeraCrypt a try, as it comes with enterprise-grade encryption for important data.
Moreover, it comes with a basic version that is totally free and solid.
Just give the software some details about your data like volume size and location, and it will automatically do its job of adding up passwords to your data and partition.
Pros:
Easy to use.
Immune to brute force attack.
Very effective encryption.
Free basic version.
Cons:
Users can get confused while downloading it initially.
Selective approach.
Microsoft BitLocker encryption:
Don't want to use a third-party encryption app? Well, then you might want to consider BitLocker.
Microsoft BitLocker is a full-volume encryption feature that comes in-built into the business version of Microsoft Windows.
With this encryption software, you can encrypt your data on a hard drive, so if by any chance it gets stolen or lost, no one but only authorized individuals can access its contents.
Not to mention, it has been a part of the Windows operating system since 2007, so if you are running an Ultimate, Enterprise, Pro, or Education version of Windows 7, 8, 8.1,10, or any version of Windows Server after 2008, then your Windows PC will have this feature built-in.
Now if we talk about encryption, it supports three different modes; transparent, user, and USB key mode.
The transparent mode utilizes the TPM chip for authentication, but this authentication method is vulnerable to cold boot attacks.
While the user authentication mode allows you to access encrypted drives by your PIN code or password.
And lastly, if we talk about USB key mode, then it allows the user to authenticate using a USB flash drive.
The best part of using a BitLocker over a third-party solution is its integration into Windows. Once the feature is turned on, it functions quietly in the background.
Admin tasks can be performed by right-clicking on the drive or choosing the control panel and then choosing Manage BitLocker.
You can also change the password, encrypt the content of the removable drive, and back up your recovery key.
Pros:
Comes pre-loaded on windows devices
Supports 128-bit and 256-bit encryption
Supports volume encryption
Simple interface.
Free to use.
Cons:
A combination of software and hardware is required to run full features.
Not available on Windows 10 Home.
Can't encrypt individual files and directories
Symantec Drive Encryption:
Symantec Drive Encryption is perfect encryption software for organizations.
It provides high-performance full disk encryption for all data like user files, swap files, system files, hidden files, etc. no matter if you are using a laptop, desktop, or removable media.
It protects data from unauthorized access and provides strong security for intellectual property, partner data, and customers.
The protected systems can be centrally managed by Symantec Encryption Management Server, which makes deployment, policy creation, distribution, and reporting easy.
Pros:
Supports multiple platforms.
Affordable.
Provides full disk encryption.
Cons:
Confusing migration process.
Sometimes ends up blocking the sites of suppliers and third parties.
Struggles to complete authentication of older programs.
Rohos Mini Drive: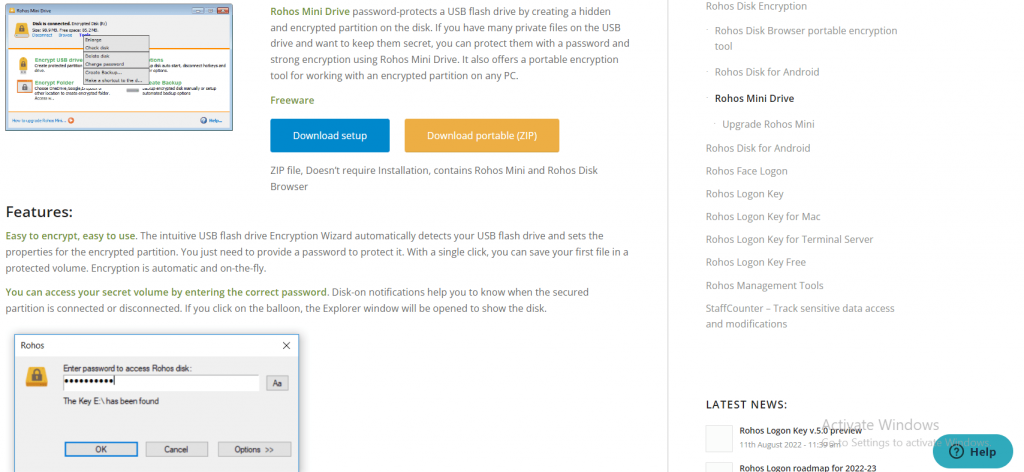 Next up is Rohos Mini Drive – a small application that allows you to password-protect your USB device.
Additionally, it will also hide your folders, so that they won't pop up when a drive is connected to a computer.
The best part of this program is its portability feature. Yes, you can just install it on your USB stick, keep it by your side, and lock/unlock it whenever you need it.
Now, talking about its usability factor it has a very simple and accessible interface with easy-to-learn options.
Pros:
Portability factor.
Has AES-256-bit encryption technology.
Has a portable app version that does not need admin or installing privileges.
Encrypt data from Skype, Chrome, and other programs.
Cons:
Requires admin permission for the desktop version.
Has an 8GB data restriction on the trial version.
Virtru:
Virtru is yet another global leader in the encryption software industry. It protects emails, files, databases, videos, and more.
Moreover, talking about its integration part, it is very easy. A user can integrate seamlessly with Gmail, Google Workspace, and Outlook.
It can also be integrated easily with enterprise apps such as Salesforce, SAP, and Zendesk.
Now, for the users who constantly send emails, there is a great feature that allows the sender to view who has accessed or forwarded their email, throughout the full data file lifecycle, plus, they can revoke access or adapt control.
Apart from that the recipients too can read and respond directly without even creating an account.
Lastly, with features like access controls, DLP rules, key management, and persistent audit, organizations will easily be able to meet privacy and compliance requirements like; GDP, HIPPA, ITAR, and CJIS.
Pros:
Free to use.
Come in the form of a Chrome extension.
Can suppress message forwarding and set expiration.
Protects attachment.
Integrates with email for easy email encryption.
Cons:
Some users may get paranoid with Virtru holding their encryption keys.
Limited to Gmail users on Chrome.
VPN:
Last but not least VPN aka Virtual Private Network is one of the most used and trusted data encryption software.
A VPN works by encrypting all of your online data and creates a tunnel so that no one, not even your government can trace what you search or do while on the internet.
Most of the VPN services are packed with AES-256 type of encryption, which is one of the most solid and military grade type of encryption, that cannot be broken.
Not just that a VPN will also enable you to unlock geo-restrictions that are imposed by the government.
Plus, if a VPN comes with features like plenty of servers, mobile app support, multiple users support, kill switch, anonymous DNS server, no-log policy, and router support, then you should just definitely grab that deal.
Lastly, if you are worried about sending your secretive data over the internet and don't want your government or ISP to snoop on you, then better get a premium VPN service for yourself.
Pros:
Protects your online privacy.
Saves you from DDOS attacks.
Prevents bandwidth throttling.
Supports multiple platforms.
Secures your data.
Cons:
May slow down your internet speed.
Won't protect you from data hoarding on social media sites.
Premium subscription may cost you more.
Some cheap VPN vendors can collect and sell your data.
How does Encryption Software work?
For encryption software to function properly, it uses complex mathematical algorithms and digital keys to encrypt data. After that, an encryption cipher and encryption key encodes the data into ciphertext.
Lastly, the ciphertext is transmitted to the recipient and then the same or the different cipher key is used to decode the ciphertext into its original value.
Basically, it works on the principle of a physical key. Only the right key unlocks the encrypted data.
Do I Need Encryption Software?
Yes, you definitely need encryption software even today, because you don't want your confidential data to fall into the wrong hands like that of a hacker, who can deploy a Ransomware attack on your system and then ask for Ransom.
I always recommend to go for a free encryption software unless you are not using for your business.
My own experience is quite good with free and open-source encryption software as they are strong enough to secure your data from cyberattacks.
Conclusion:
After this long discussion, it is very much clear that encryption software is still a must, and will be in demand for a long time, because you wouldn't want your data to fall into wrong hands, right?
So, what are you waiting for? Just follow the curation and pick up the right one that suits your business or personal needs.