KissAnime is one of the most popular platforms where anime fans can watch their favorite shows and movies. It's a free-to-use website with a straightforward interface for easy viewing.
Although the platform attracts a number of users, some are worried about its safety. After all, security issues are common for sites that offer free and illegal online streaming.
So, can you get a virus from KissAnime?
Let's find out.
Can I get a virus from KissAnime?
You can get a virus from KissAnime. According to its Reddit community, the real website has been down since 2020 and it's not coming back.
Since then, many mirror sites have popped up, claiming to be the new, official platform. However, they're all potentially dangerous fakes.
What are the potential threats?
Here are the most common threats related to KissAnime:
Mirrored websites
After the original KissAnime platform shut down, hundreds of mirror websites appeared on the web. They may look convincing, but they're full of pop-ups that'll redirect you to malicious websites.
Some may also be using your CPU to mine coins in the background.
On top of that, many of them serve as a phishing decoy for scammers. They might ask for your login credentials. Don't fall for this trick, or you might compromise other accounts related to the email address you shared.
KissAnime apps
KissAnime doesn't have any official Android and iOS apps. However, if you look at the Google Play Store or App Store, you'll find dozens of them.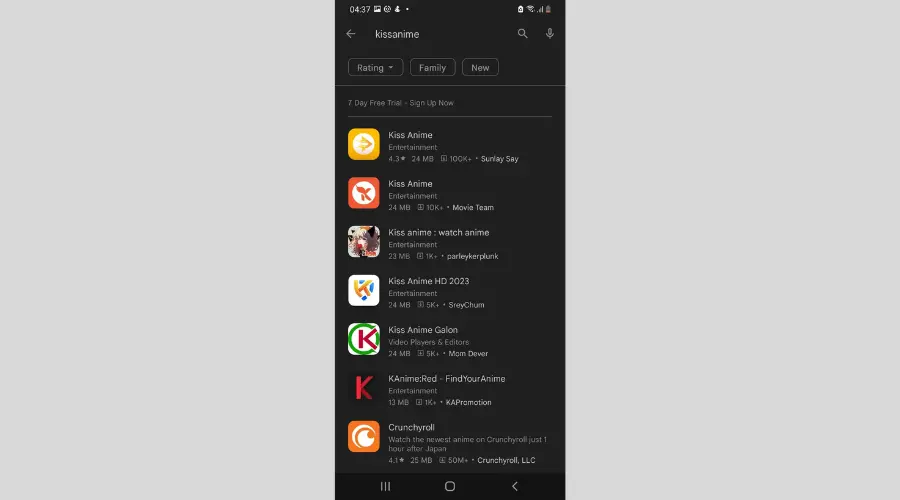 Obviously, these apps aren't related to the official website. Some may contain malware that'll infect your device as soon as you install them.
Even if they let you stream anime for free, you shouldn't trust them. They can contain dubious ads, which are often carriers of viruses.
How to stay safe?
As mentioned above, there aren't any completely secure KissAnime domains. Ideally, you should steer clear of all of them and look for safe alternatives. 
But if you insist on KissAnime, here's a list of rules to follow in order to protect your device:
Stay away from any pop-up advertisements.
Don't click on any outgoing links on the website.
Don't download malicious KissAnime Android and iOS apps.
Install a reliable ad-blocker like uBlock Origin and keep it enabled at all times.
Install a robust antivirus and regularly update it.
Keep your firewalls on.
These apply to KissAnime, but you should also keep them in mind whenever you're streaming on sites that seem suspicious.
Additionally, following other common internet safety rules when watching anime will help you stay safe.
Summary
So, can you get a virus from KissAnime? Apparently, you can! Since the official website's demise in 2020, all the mirror sites have been potentially risky.
They're filled with ads and harmful links or serve as a front for phishing scams. You shouldn't visit any of them without an antivirus, firewall, and ad-blocker. Even then, your safety isn't guaranteed.
We really recommend looking into other, more secure platforms for your daily dose of anime.
---