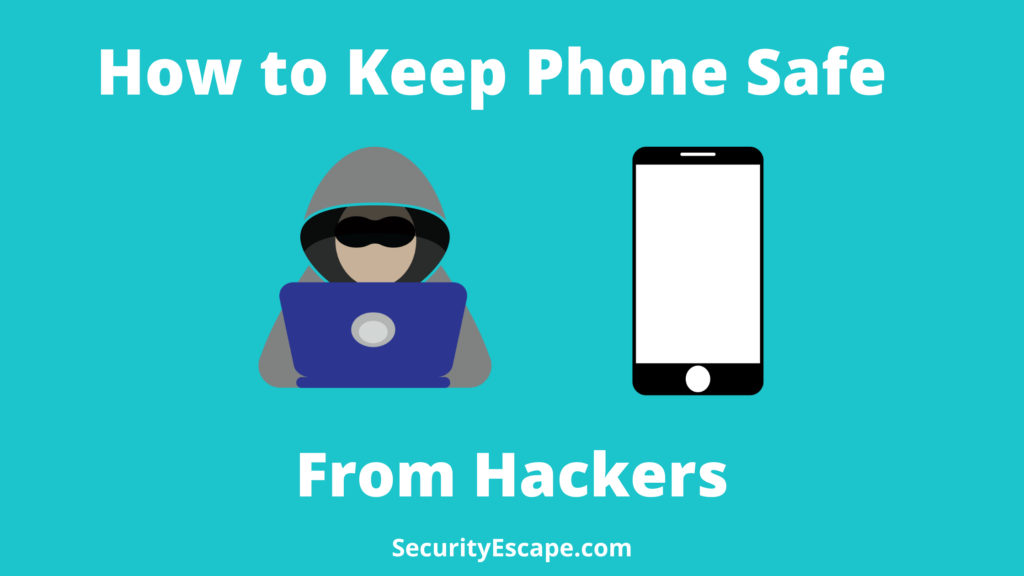 Smartphones have become a crucial part of our life and we can't even imagine our life without them. These smart gadgets have influenced our life so much that, no one can keep their eyes off this invention for a longer period of time. From gaming to photography these smart gadgets can do wonders. But, with the immense growth in the use of smartphones, one can also notice the growth of dangerous web activities like "Hacking" and "Fraud." And due to this reason, many smartphone users are losing their personal data and even money, So How to keep my Phone safe from Hackers is the most appropriate question to be asked.
According to the survey, carried by VIVO and CMR; the use of smartphones rose from about 11 percent to 5.5 hours during the pre-COVID pandemic, from about 4.9 hours in 2019.
So, to protect your phone from hackers, you should always follow some of the protocols and hereby I list some of them:
Protocols you should follow to protect your phone from hackers
To keep the smartphone safe from hackers one should follow a few guidelines like Updating your phone software regularly, Avoid using Public or free wi-fi without VPN, Download applications from trusted sources, Avoid rooting the phone, do not store confidential data, Lock all the apps and set up remote wiping out data settings.
Always update your phone software
Smartphone companies release software updates for a reason. Thus, updating your smartphone with the latest software not only helps you stay updated with the latest features and functions, but it also provides updated security which in turn helps you stay protected while using your smartphone.
Many companies have started providing the latest updates for their smartphones after the Google One program. One can always check for the latest software updates by accessing the Settings>Software Information> Software Updates.
So, better to stay updated than sorry. 
Avoid using Public Wi-Fi or free Wi-Fi
It seems so catchy when a café that has just opened near your house offers free Wi-fi with every visit you take there. Isn't it? But my friend never ever, I repeat never ever use those free tempting Wi-Fi, because it can cause a great cyber vulnerability to your phone. 
A free public Wi-fi is not only used by you, but several others that are sitting inside that café, and there is a chance that there might be a Hacker connected to the same Wi-Fi network. 
Thus, such open Wi-Fi's are easy targets for a Hacker, and resulting in a massive vulnerable cyber-attack at the same time.  
Use a VPN service
Well, using a VPN service on your devices comes in handy in so many ways like it secures and hides your internet activity from your Internet Service Providers, helps in breaking Geo-Restrictions, and protects your device from hackers. 
The same goes with your phone. Yes, you should practice using a VPN service often if you want to keep your phone away from hackers.
Remember? what I said about not using free Wi-Fi? Well, I stay firm on my words, but if at any point in time, the need to use Public Wi-Fi occurs, always remember to use a VPN service, that will keep your phone and data protected from those prying eyes.
Phone company like Samsung is already providing their Samsung Max VPN service to the users, which comes in handy when you purchase the phone. But this VPN service is not that powerful and can also lower your internet speed. 
Therefore, I recommend using the best VPN services available in the market and the price you will pay for the services is worth every penny.
Always download apps from official app stores
There is a specific reason why Android and iOS provide the users with their app stores. You might have come across many sites and apps which claim to provide paid apps for free. 
Certainly, the claim might be right, but downloading such free paid apps from these websites might cause you a greater loss. Such free paid apps come with preloaded malware and viruses and installing them to your phone is just like injecting a part of poison into your phone. 
Therefore, stop downloading apps from such websites, and always use verified stores.
Always keep your phone's security ON
You might not want to face a consequence, where someone tried to access your phone while you were not around, and therefore, keeping the security of your phone updated is very essential.
Add an extra layer of security on your smartphones like the two-step verification and a strong password. 
Also, make it a habit to use the Face Unlock feature and the Finger Print Scanner as these are the most reliable and strong security features available on the latest smartphones.
Avoid Jail Breaking or Rooting
While Jail Breaking or Rooting your phone seems cool, but it can also make you look like a fool. I know Jail Breaking or Rooting can open endless possibilities of tweaking your phone the way you want. 
Yes, it can also allow you to install Custom Flash ROMs of your choice, and can even allow you to tweak up the processor, but when you jailbreak or root your phone you also break the security protection provided by the company. 
Hence, allowing the apps to perform actions that are technically prohibited; even snooping your personal data. 
So, never ever do such kinds of stunts with your phone unless you know what you are doing.
Lock your apps and avoid storing banking data
Locking your apps is another way to keep your personal data private. Whether it be your photo gallery or some app with your banking details, it is always safe to lock such kinds of apps to keep your data secretive. 
And yes, not to forget, you should also avoid storing any banking details on your phone's browser or in the note's app, as it can be accessed by the hacker if he tries to hack your phone.
Learn to wipe your phone remotely
There are chances that your phone might get stolen or lost, but what about the data that is in your phone? Well, for that you should always practice using the Wipe your phone remotely feature, to erase all your data.
Final Remarks on How to keep my Phone Safe from Hackers
To avoid personal data breaches and keep your phone safe from hackers, it is important to stay updated on the latest evolving cyber threats and act accordingly.
So, to conclude try following the above protocols for a better and safer phone experience.