Many people turn to Telegram for messaging because it has end-to-end encryption. However, it can still be hacked assuming your device, email, or password is compromised.
If you're wondering how to recover a hacked Telegram account, here's what you need to know.
How to know if your Telegram account got hacked?
It's not always immediately clear whether somebody has infiltrated your online profiles. Cybercriminals can hide in the background gathering as much personal data as possible.
However, these are some telltale signs to look out for:
Unexpected settings changes – Mysterious changes to your privacy settings, profile, notifications, language, or other options
Unusual activity – Other strange activity in your account, such as messages being sent without your knowledge or new contacts
Unreceived messages – Not receiving texts or notifications from people you usually communicate with
Unusual login location – Your account has logged in from a location you don't recognize or another country
Password reset requests – Notifications about password reset requests or changes, even though you didn't initiate them.
Not all these signs mean your account is actually compromised, though! Fortunately, Telegram is good at spotting unusual activity. It'll lock down your account and send warnings before any damage is done.
If you have any doubts about your profile's security, you should visit your active sessions.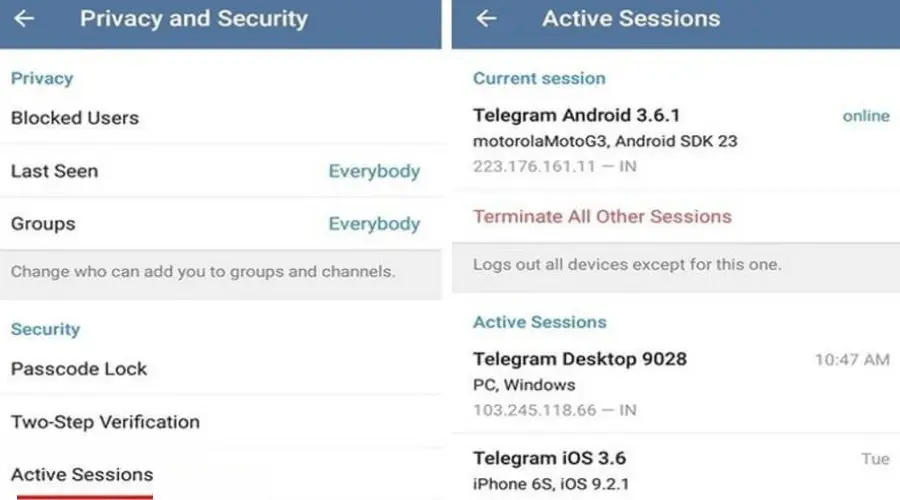 This feature is one of the best ways to check for unauthorized access. You can find it under the Privacy and Security tab.
Here, you'll see a list of devices that are currently logged in, together with all past ones. If there's a login you don't recognize, it means someone else has breached your profile.
How to recover a hacked Telegram account?
If you suspect your Telegram profile has been hacked, you should follow these steps to recover it:
As previously said, you can find your active sessions in your Privacy and Security tab.
If you see any you don't recognize, simply tap to remove them. You can also choose to remove all but your current device.
They'll need to pass two-factor authentication to log in again.
Turn on two-factor authentication
2FA is one of the most important security features for preventing unauthorized access to your account. If you don't have this turned on already, go to:
1. Settings > Privacy and Security > Two-Step Verification > Set Password.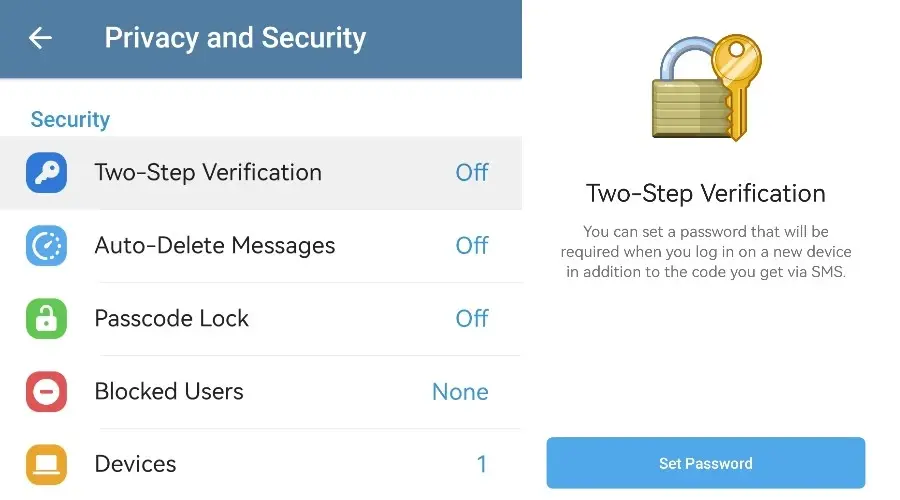 2. Enter your recovery email.
3. Follow the instructions to create a password hint.
4. Wait to receive a one-time code to your recovery email.
5. Enter this in the app and two-factor authentication will be set up.
You'll now receive a one-time code whenever you sign in, even if you enter the password correctly.
Reset password
Resetting your password will ensure a hacker cannot log back in if they have your old one. To do this:
1. Go to Settings > Privacy and Security > Two-Step Verification > Forgot password?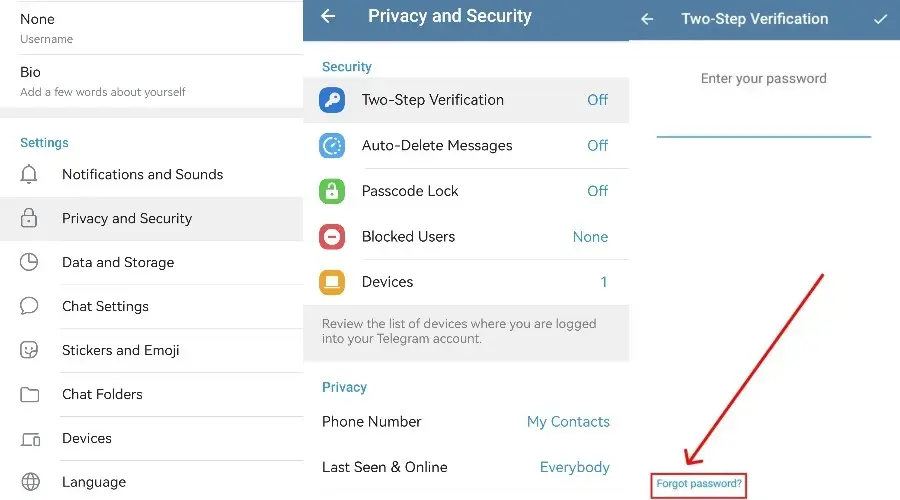 2. You'll then receive a one-time code to your recovery email.
3. Enter the code in the app and create a new password.
4. Follow the instructions to create a password hint.
You might also benefit from a password manager in the future. You're three times less likely to get hacked when using one!
Turn on Passcode Lock
Passcode Lock is an extra layer of security that requires the user to enter a pin code to open chats. This means even if someone has breached your account, they cannot access personal information.
To set this up:
1. Go to Settings > Privacy and Security > Passcode Lock.
2. Use the slider to turn the feature on.
3. Create your passcode or enable the fingerprint sensor.
4. Auto-lock sets an amount of time you can be away before the app locks down and requires the passcode. Choose between one minute, five minutes, one hour, or five hours.
Contact Telegram support
If your account is hacked and the culprit has managed to remove your access, it's time to contact Telegram support. You can also send a direct email to recover@telegram.org.
Summary
If you want to know how to recover a hacked Telegram account, all is not lost.
The app has a handy active sessions feature to find and remove unknown users. Furthermore, you can stop hackers with 2FA and a passcode. And if all else fails, you can ask support for help.