If you're on a hunt for a way to make some quick money online, you might have stumbled upon SocialDM.co.
The site claims you can earn $500 per day by taking surveys and inviting your friends. This has helped SocialDM.co gain continuous traction ever since early 2022.
It's easy to understand why this claim has attracted so much attention. The whole thing sounds too good to be true, and brings the following question:
Is SocialDM.co scam or legit?
Let's find out!
What is SocialDM.co?
According to its website, SocialDM.co is the number one social earning network. It offers an opportunity to every social media user with any size following to make money.
The website also claims it has over 690,000 users, each making about $8,000 a month.
Apparently, what influencers love about it is the promised simplicity and high payouts.
So, how exactly does it work?
As mentioned above, SocialDM.co says it pays its users to perform simple tasks such as taking surveys and sending invites to their friends.
These simple tasks are worth $500 a day, which the site later pays you via PayPal. Additionally, you'll receive $15-$20 for every new member you bring. When someone clicks on your link but doesn't join, you'll still get $2.
Also, you can simply share its posts on your social media profiles, and you'll get hefty rewards, regardless of the results they produce. Just look at the numbers the site claims it pays for one post:
YouTube – $50
Instagram – $40
Facebook – $45
TikTok – $80
Snapchat – $90
What's more, you get $40 just for joining the network.
Is SocialDM.co scam or legit?
Unfortunately, I'd have to say that SocialDM.co is a scam. The amounts of money the site claims it pays to its users point to it alone, but there's more evidence that there's something shady going on here:
The numbers don't look right
First, I'll do some math and show you why the numbers SocialDM.co provides on its website simply don't work.
We can all agree that $500 a day sounds like a great deal, right? This translates to almost $200,000 a year, which definitely sounds too good to be true, especially since you need no skills, no education, and barely any effort to do it.
That's just the beginning.
The achievements SocialDM.co lists on its website look astonishing. But when you crunch the numbers, something just doesn't add up.
The website claims it has paid its users $35 million so far.
However, you're supposed to believe that this network has 690,000 active users who make an average of $8,000 per month.
The above numbers suggest that SocialDM.co pays out over $5,5 billion every month. That's 1,892 times more than what the network claims it has paid so far in total.
Let's just pretend for a second that those numbers are true. Then, imagine how much money it would have to make to actually pay its users so much. That number would have to be somewhere in the $7-$10 billion range.
In other words, SocialDM.co would have to make about $100 billion per year to pull this off.
To understand how silly this is, let's look at some of the biggest companies out there and how much they make. By November 2022, Facebook had made $84 billion in ad revenue. TikTok made $11 billion in the entire year.
Let's imagine for a second that SocialDM.co really did perform as well as Facebook did in 2022. So how come not a single media has reported about it?
Also, why would SocialDM.co pay you large amounts of money to promote it on all these platforms when it's actually bigger than them?
You'd expect a network with over 690,000 users to be on social media, right?
Yet, when you look up SocialDM.co on any major platform, you can hardly find anything.
Its Facebook page has 80 followers, while its Instagram page has 31. There's also a SocialDM.co support Twitter account with 20 followers.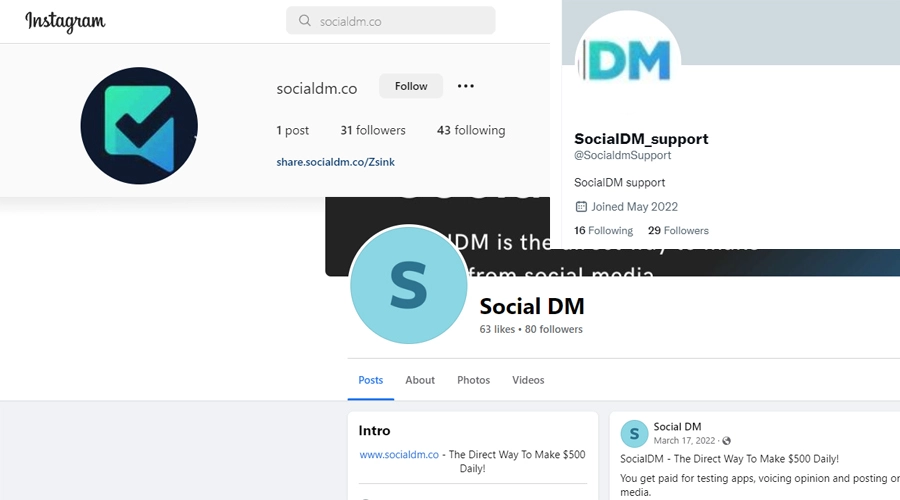 Sure, being on social media isn't a prerequisite for any company out there, but the "number one social earning network" in the world would definitely have to do much better than that.
Also worth pointing out is that the Stay Connected buttons at the bottom of the website aren't working. While they should lead to the company's social media pages, they're actually share buttons.
Fake testimonials
Testimonials left by users speak volumes about a company's legitimacy. SocialDM.co has a section on its website dedicated to payments proof.
At first glance, it would appear that there are some legit positive comments left by users.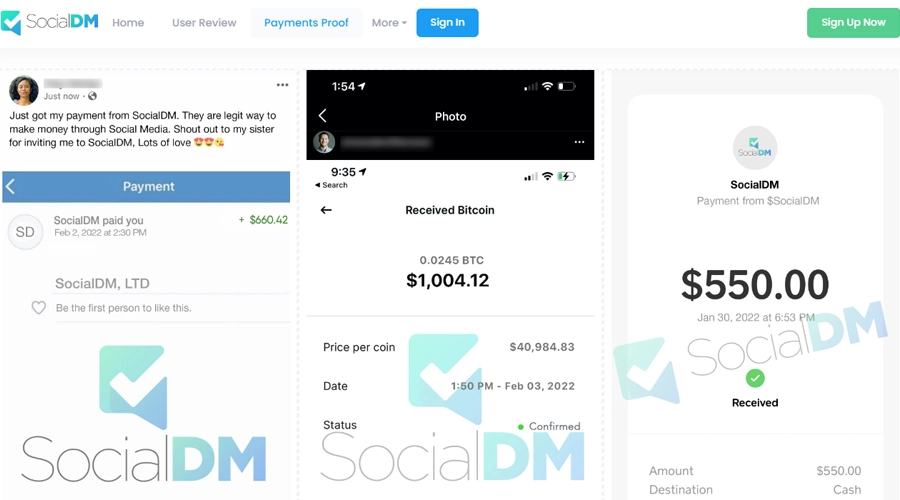 Although it may not seem like there's much wrong with this page, my previous findings led me to do some more digging.
With a bit of research, I found the person in the second picture on various other websites, as you can see below.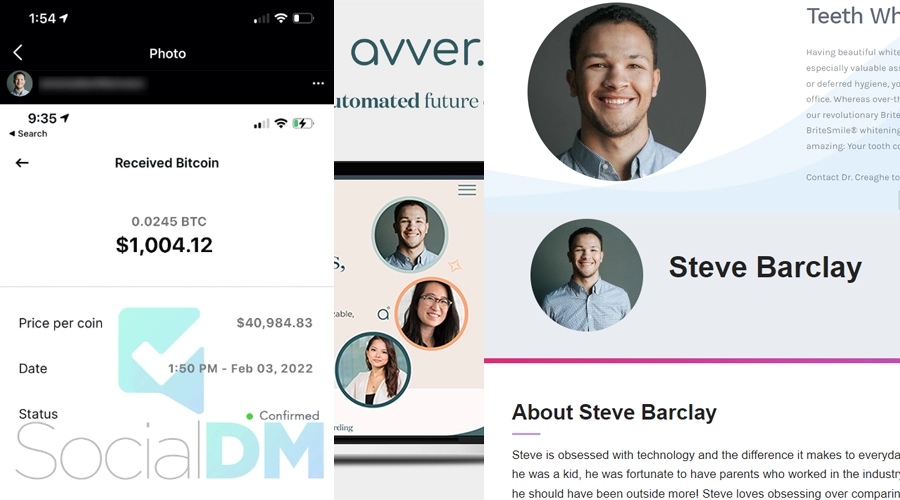 Further research showed me this is the case with every profile on the payments proof page.
So, why would a network with 690,000+ users who make insane amounts of money off it use fake profiles to write testimonials on its website?
Negative user reviews
Above, I looked at the fake payment proofs you can find on the SocialDM.co site. Keep in mind that this network uses the same strategy for other places, such as Reddit and Quora.
Topics on whether or not SocialDM.co is legit are full of fake reviews claiming to come from users who've made money on the site.
But if you dig deep enough, you'll find tons of posts saying it's a scam.
Names missing
Let's remind you once again that SocialDM.co claims to be the world's "number one social earning network".
With large organizations like this, you can usually find out more about the people behind them. Most often, you'll find entire pages about their owner, CEO, and other leaders.
As you can imagine, this isn't the case with SocialDM.co.
I searched every corner of the website and could not find any information on who may be running this network.
Scammers always want to remain anonymous, and the people behind SocialDM.co doing exactly that is another red flag.
Similar scam sites
Lastly, I want to discuss similar sites like SocialDM.co for making money online.
If you do some research online, you'll find numerous similar sites, all claiming to be the "number one social earning network" or something similar.
After some further digging, I learned that these sites work almost identically to SocialDM.co. Not only that but they're loaded with fake testimonials that look very similar to those we looked at earlier.
They even use the same methods to explain the process of earning money on the website. The image below shows that EZEarn.co uses the same template as SocialDM.co.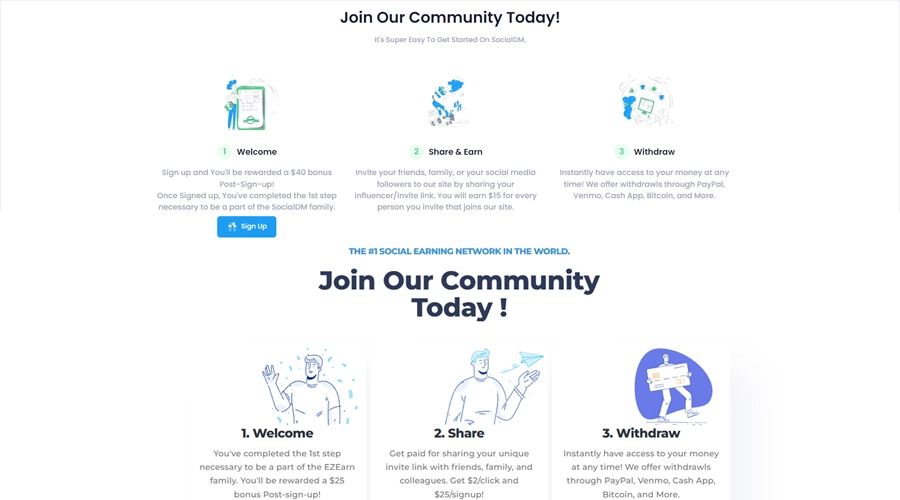 Things get even more suspicious when you look at both sites' terms of service pages. The text in them is entirely the same, with the only thing different being the network's name.
How to stay safe?
After reading everything I wrote above, you can already realize that staying away from SocialDM.co and similar sites is a good idea.
While they may not necessarily harm you directly, they may trick you into registering just so they can get their hands on your information, such as name and email address.
Of course, any money they promised you WILL NOT be paid to you.
In my research, I found three more sites that operate exactly the same as SocialDM.co and which I can safely say are parts of the same scam network:
ezearn.co
sharerify.co
cashandgo.co
To avoid falling for scams like this, you may want to follow some of the steps I took when doing my research:
Check if the numbers add up
Look for user reviews and check whether they're legit
Look for information on the owner or CEO
Check social media pages
Compare site designs
Compare terms of service pages
Check for user reviews on Facebook, Reddit, Quora, etc.
Identifying scammers isn't as difficult as it may seem. If you've taken a good look at SocialDM.co, recognizing other members of the same scam network should be easy.
Conclusion
Unfortunately, you can't make $500 a day on SocialDM.co by doing barely any work at all. In fact, you can't make anything on this website.
It's all a scam designed for users to leave their personal information when registering and invite friends and family to do the same.
Luckily, there are sites such as Survey Junkie and Inbox Dollars that don't make false promises and actually pay users for completing simple tasks online. If you want to make some quick money online, sign up on them instead of wasting time on scams like SocialDM.co.