With everything making a shift to online-based operations, apps have become one of the most crucial and used mediums to connect with users. A basic app needs perfectly crafted code to function properly, and well, this perfection can only be gained if you are a professional software developer who knows every nook and corner of coding. But what if you don't know to code and still want to create and deploy an app? Well, worry no more, because App Cloud is here to save your day. However, if you may ask, what is this app cloud, and what is app cloud used for, then, I suggest you must read the entire article till the end.
What is the app cloud used for?
It is a cloud-based platform is used to create, deploy and manage apps without worrying about any technicalities. In short, it is a cloud-based IT governance framework that lets an app function directly through a browser or native of an android using APIs and eliminates the stress on physical storage, ram, and processor. It only relies on an active internet connection to function.
Moreover, an app cloud provides you with everything that you will need to develop and run your apps, thus helping businesses to develop and deploy their apps quickly and efficiently.
Take Spotify, a well-known online music library as an example. Previously it was a basic app that needed to be installed on a PC or mobile to function. But now as it has shifted its operation to Google's Cloud system, it has unlocked its potential and is running with high efficiency. You can make out the difference between the speed and efficiency of this app by comparing it side by side with an older version of the app.
Types of app cloud.
There are three different types of app cloud models available by far.
Private:
As the name suggests a private app cloud model is hosted for a single organization and can't be accessed publicly. It acts as a private network for a particular company, which creates a secure environment for applications, users, and services.
And therefore, IT companies can choose to build their private cloud infrastructure on their premises or can pass on this contract to a 3rd party company host to maintain the infrastructure off-site.
Further mentioning, the resources are not shared with the other organizations and are more secure. Hence, these types of models are expensive.
Examples of private app clouds are; HPE, VMware, Dell, Oracle, and IBM.
Public:
The public app cloud model is an IT model where computing services and infrastructure are managed by third-party providers on-demand, and are shared with multiple organizations via the public internet.
When compared to a private app cloud model, a public model offers data storage capacity and flexible computer power at a much cheaper rate. Moreover, such companies own hardware as well as software infrastructure that is needed to deliver the services to a huge number of their customers.
Amazon Web Services, Microsoft Azure, and Oracle are three well-known examples of public cloud service providers.
Hybrid:
The hybrid app cloud model is an amalgamation of both public and private models which use API technology to combine them in a single cloud environment, thus giving out the dual benefit to the customers.
With this model, IT companies can share data and applications between a third-party cloud environment and on-premises servers, which creates additional options for application optimization and deployment. However, this type of cloud model is more complex to set up.
Examples of Hybrid app cloud models; AWS Outposts, Azure Stack, Google Anthos, VMware on AWS, and Azure Arc.
How does App Cloud work?
As discussed before, a cloud app doesn't need to permanently rely on a local device to function, as it relies on 3rd party servers.
But do you know how exactly it works?
No?
Well, I will explain it to you.
In the first phase, the data is stored, and compute cycle occurs inside a remotely located data center that is operated by a third-party company.
Now, back-end processing ensures security, uptime, and integration while supporting diverse access methods. While under constant control, cloud applications rarely consume storage space on a physical storage device. Hence, with a stable and speedy internet connection, a well-written cloud app will offer all the features of a normal desktop or mobile app, along with the portability factor of a web application.
You can easily understand the working by looking at the graphics given below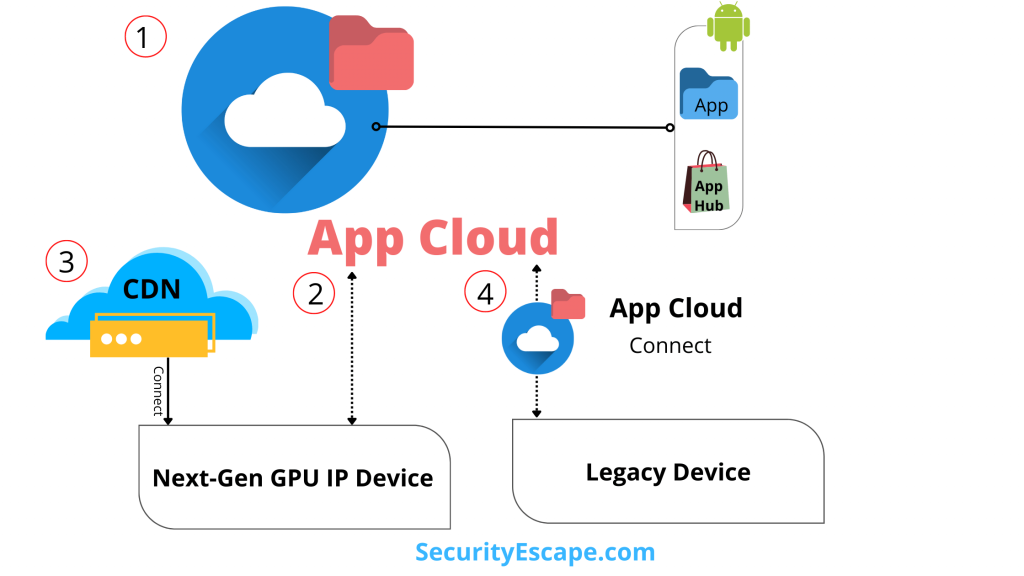 This is just an example of app cloud working mechanism.
What are the things that should be kept in mind before shifting to the app cloud?
Certainly, the app cloud can be considered gold when it comes to managing, deploying, and creating an app for users. But there are a few things that should be kept in mind before shifting an app to this platform, like;
Decide which applications are a perfect fit:
Migrating your apps to a cloud-based service might be a perfect idea if you want speed and accuracy. But don't forget, that every application won't respond positively to this migration, especially the legacy applications running on the mainframe. Moreover, migrating the existing apps might mean rewriting the entire code.
Therefore, IT organizations must conduct a thorough investigation to study and understand what modifications will be required to prepare an application for cloud deployment.
Choose the best deployment model according to your needs:
Next, the IT organizations must decide on how to host an application. In some cases, a private environment can be more suitable if you are not worried about the expense factor. While in some cases a public environment is much more suitable, but, in this case, you might have to compromise on security.
Focus on Deployment vs Migration:
Thirdly, when moving an app from traditional data center operation to private/public/hybrid cloud infrastructure, it is often seen that companies are motivated to merge applications and infrastructure across servers, which is good for lowering the cost, but application deployment should always be the key focus of cloud service implementation.
Plan for performance changes in application:
A cloud environment functions differently than a traditional physical server, so an organization should run a benchmark test on the app in traditional conditions, and determine a minimum acceptable standard before deploying it over the cloud environment. Moreover, an organization should check on the app's performance regularly, and make it a habit to optimize it accordingly.
Invest in new monitoring tools:
The monitoring tools that did the job in a traditional IT environment are no longer effective in a cloud-based environment. Therefore, companies should start investing in Cloud Management Platforms (CPMs) to keep track of new and existing security threats, compliance status, and application performance across the entire cloud system.
Benefits of app cloud.
Better scaling opportunities:
When a business releases an app in the market, it knows that it might need to be scaled after a certain period of time. But, if you are using your premise for operations, then it might be messy, costly, and complex.
However, if you have deployed your app on an app cloud, then you don't need to worry about all the mess and complexity because cloud hosting companies have pre-built points of presence in the whole wide world, that can help you expand into new markets without a large investment.
It is pocket friendly:
Next, is pocket friendliness. Yes, if you are someone who is a fresher and just started an app for your business, then app cloud is one of the best alternatives for you.
By using the app cloud, you can easily create, deploy and manage your app without any extra cost. No doubt, the cloud hosting companies will charge you a certain subscription for the bandwidth, but apart from that, it's all free. Plus, their cyber security experts will handle all the apps on your device, thus automating the security of your app.
Provides flexibility:
Imagine you are on a holiday or chilling at home, and suddenly your app which is hosted on your physical server starts experiencing bugs and crashes.
What will you do in this situation?
You would have to rush to that certain place, right?
Well, this is one of the biggest disadvantages of having your app hosted on a physical server.
Although, if you have deployed your app on an app cloud server, then rectifying such errors becomes an easy-peasy task. You just need to connect to your allotted app cloud server with the help of a laptop or a PC with a stable internet connection to accomplish this task right from the comfort of your home or hotel room.
Increased reliability factor:
The reliability factor plays a much more important role while deploying an app to the user. Hence, you should migrate to an app cloud-based service provider that is keen to provide better & regular security patch updates that will help in keeping your apps safe and secure.
Readily accessible:
Same as the flexibility factor, an app cloud model allows you to access your information anytime, anywhere, and from any device. Additionally, it makes the information-sharing task with others much easier.
Unilaterally sync user data:
One of the best ways to create a highly collaborative ecosystem for your app is by using cloud hosting services.
Yes, with an app cloud-based service you can effortlessly sync your users with your synced data by using VPN-based servers. It is one of the most robust and effective ways of managing your apps.
Disadvantages of app cloud.
Downtime:
The biggest advantage of deploying an app on the app cloud is its accessibility through a speedy and stable internet connection.
But what if there is a sudden outage of the internet?
Apparently, your app will face downtime, thus causing a significant business interruption by disrupting access to cloud applications.
Not to mention, as cloud services are based on technical amenities, they may also face some technical outages from time to time, and during that period your apps and data would be unavailable.
Control:
The major issue with cloud-based services is the lack of control. Yes, the entire back-end process is owned, managed, and operated by cloud service providers.
So, if you are someone who doesn't want to lose control over the physical side of your IT, aka the back-end process, then app cloud service is not for you.
Security:
Lastly, when the organization increases the number of application deployments on an app cloud server, the possibility to control and monitor the vulnerability of every part of the app turns into a hefty task.
Final Remarks
Now that we have had a long discussion, hopefully, you must have gotten the answer to this most searched query.
So, if you are running an online business or are planning to execute one in 2022, then I will surely recommend you to create and deploy your apps on the app cloud – the online app management platform, to experience increased efficiency and reduced cost.