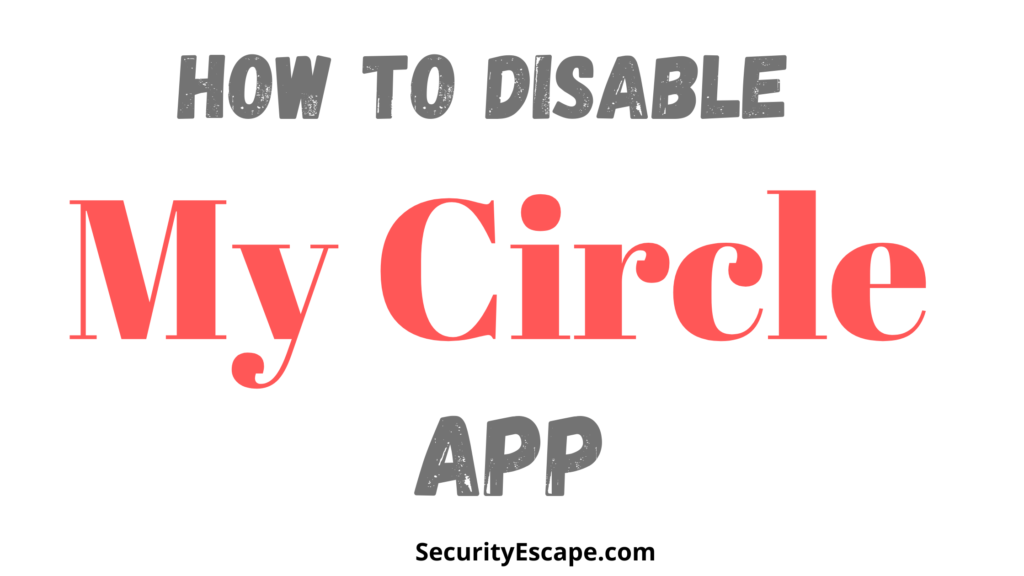 Circle app gives the user to manage the family's internet connection even if they don't own a Circle Home or Home Plus unit. But what if you don't want it anymore or disable it temporarily? Want to know How to disable my circle?
Well, it is not rocket science and you can do it easily, and on that note, I will be providing you with easy methods and steps, that will help you to disable my circle in no time.
So, let's get this conversation started!
How to Disable My Circle?
So, if you want to disable my circle, you can easily do it by removing a device from the circle app, or by turning off the Circle Home or Home Plus, and if you are still confused about it, go through the entire article, which has step by step tutorial.
Method #1. Disable the Circle Home or Home Plus:
You can always disable Circle by disabling Circle Home or Home Plus. And to do that, just follow these simple steps:
Open the circle app on your parent's device.
Tap on the three-dotted lines.
This will open a menu in front of you with options inside it.
Now, click on Settings (on Circle Home Plus), and Manage (on Circle Home First Generation).
The appropriate menu will open up with options like; Router Compatibility, Disable Circle Home Plus, Reboot Circle Home Plus, and Remove Circle Home Plus.
Select Disable Circle option. 
Now, you have successfully disabled circle functions.
If, you want to enable it again, Select Manage or Settings and click on Re-enable option.
Method #2. Turning off Home Circle Manually:
The second method consists of disabling the Circle by manually turning off the Home Circle, and to do it just follow these simple steps:
Unplug the Home Circle by unplugging it from the power source.
You will notice that Home Circle is still on, and it is because of its in-built battery. Therefore, you need to turn it off using the button given on the backside.
Now, to do it, locate the Power Button on the backside of the device.
After that, press and hold the button for 10 to 15 seconds.
Lastly, release the power button when you see no LED light on the device.
You have successfully disabled my circle.
Now, any device can access the internet, without any kind of filter or restrictions.
Method #3. Removing a device from Circle Parents Control:
The third way you can disable my circle is by removing your device from the Circle Parents Control, and for the same just follow these simple steps:
Open the circle app on the parent's phone or tablet.
Note: If you have Circle Home first-generation model, you have to use the 1st Generation Circle app on your phone or tablet. 
Secondly, if you have subscribed to Go Circle and added using My Circle, you have to remove all the services from your child's phone or tablet, as Circle Go is unavailable now.
Tap on the Devices icon, which is located at the right-hand side corner of the app.
Now, the name of the devices will appear. Click on the appropriate device name.
You will now see, Remove Device option, under the Device Management section.
Tap on the Remove Device option.
After that, a confirmation pop-up will be projected on the screen. Click on Remove.
Done, your device has been successfully removed from the My circle.
Note: If the device that was removed was a computer, then you don't have to initiate anything further, but if it was a phone or a tablet, then you have to follow these additional steps. And due to different OS platforms, I have bifurcated them into Android and iOS.
 Deactivating My Circle device administrator: (For Android)
If you have an Android phone, then you need to deactivate my circle device administrator app, and for that just follow these steps:
Open the Settings app on your Android phone.
Now, tap on Biometrics and Security or Security and Location. 
Select Device Admin app. 
Toggle the switch to turn off Circle Parental Controls.
Then delete the Circle's app data by going to the Settings menu > Apps > Circle app > Storage > Clear Data.
Lastly, remove the Circle app by staying inside the Circle app settings in the app menu, and then selecting Uninstall, or by just long pressing the Circle app logo, and then selecting Uninstall.
Similarly, you can remove the Circle app from your iOS device by:
Long pressing the Circle App icon.
Then, select Remove app.
Now, tap the Delete app option.
Lastly click on the Delete option, on the confirmation pop-up box.
Final Remarks:
So, using My Circle is your best bet when you want to restrict your children from watching certain content, or if you want to restrict Wi-Fi usage.
Although, using Circle can sometimes restrict you from accessing some content. Therefore, disabling my circle would be a perfect hack for you.
Thus, to conclude, these were my top 3 methods with step-by-step solutions, which will help you disable my circle, and give you the freedom to access the internet freely.